Afrin: Civilians, IDPS Included, Die in Booby-trapped Car Blast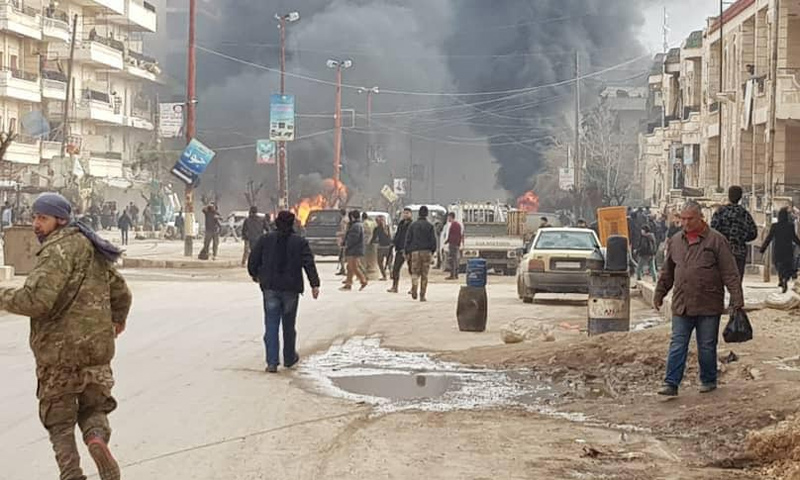 Nine civilians are dead, and others are wounded, this is the initial death toll of the explosion of a booby-trapped car in the city of Afrin, controlled by the Turkey-backed factions of the National Army.
The victims include women and children and many of the affected are suffering critical injuries as a result of the explosion of a booby-trapped car at the terminus of the Trende highway, leading to Afrin city, Enab Baladi correspondent for rural Aleppo reported today, July 11.
The reporter noted that the urgent cases were rushed to the National Hospital in Afrin, adding that the number is liable to increase.
According to the correspondent, among the afflicted people are persons displaced from eastern Ghouta, whose exact number was not known at the time of writing this report.
The Free Syrian Army (FSA)-held areas, northern and eastern rural Aleppo, are bearing witness to the detonation of explosive devices and booby-trapped car blasts that are mainly targeting Jarablous, al-Bab and Afrin.
On March 18, 2018, the Turkey-backed factions of the National Army took over the full range of Afrin city, in the aftermath of their advance into the city's center and their progress at the disadvantage of the People's Protection Units (PPU).
Following the factions' control, the Units threatened to continue their military attacks on the Turkish army and the FSA, pointing out that their cells will adopt a "surprise-based" technique.
On June 20, 2019, a civilian fell dead in a car blast, which was detonated through an improvised explosive device in the al-Siyasia Street, in the center of Afrin.
This was preceded by the death of National Army personnel, who met their fate in an explosion of an improvised explosive device in the surrounding of Afrin.
On December 16, 2018, the al-Hal Market in the city of Afrin bore witness to a car explosion, which caused the death of four persons and the injury of other 18, according to the Syrian Civil Defense (SCD).
Back then, the Wrath of Olive Movement, which views its actions as a retaliation against the Turkey-backed factions, adopted the blast that targeted the market.
if you think the article contain wrong information or you have additional details Send Correction