Syria's Crops Reduced to Ashes: Who Benefits?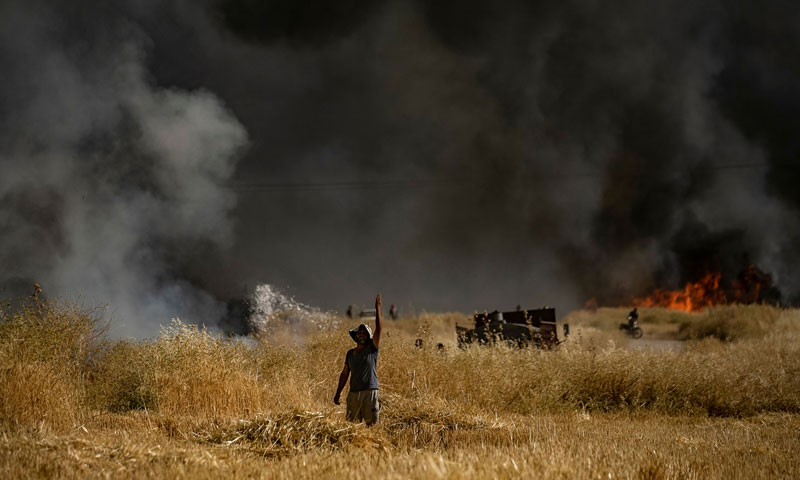 In recent weeks, fires have spread in many areas of Syria, devouring thousands of hectares cultivated with wheat and barley. The situation has reached dire levels to the point that a new fire breaks out somewhere in an agricultural land in Syria almost every day. This has further exacerbated the Syrians' suffering after  agonizing years of war.
The fires reached areas under the control of the three major parties (the opposition, the Syrian regime and the Self-Management). However, the causes of the outbreak differ from one case to another. In the opposition-held northern and western Hama countryside and some areas in the northern Idlib countryside, for instance, the fires were the result of artillery bombing by Assad forces who deliberately burned the crops. 
Meanwhile, In the areas under the control of the Syrian regime, fires broke out in Sweida and Daraa, but the largest was in areas under the control of the "Self-Management" in northeastern Syria, an area that is considered the economic reserve for the country, considering that it makes up 64% of Syria's irrigated wheat and 38% Rainfed wheat, 63% cotton, and 29% lentils, according to the Food and Agriculture Organization (FAO).
Speaking to Enab Baladi, Salman Baroudo, the deputy director of economy and agriculture at the Self-Management's Executive Board revealed that "the fires have consumed more than 382,000 dunums in northeastern Syria, with an estimated loss of 17 billion Syrian pounds." 
Mutual accusations
As the flames continue to plague northeastern Syria and with a lack of a viable mechanism to address them, the responsible party is still unknown. While there are indeed some logical causes to be found, such as high temperatures and electricity sparks, the systematic manner in which the breakout seems to happen and the large scale indicate the existence of some hidden hands behind this confounding issue.
There was no shortage of accusations. Self-Management was quick to accuse Turkey of bombing the fields, as well as the Syrian regime, who is seen as a competitor in receiving the revenues generated from wheat, especially after the latter announced that it will buy the farmers' harvest to which it allotted a budget of $200 million.
Meanwhile, the official news agency SANA reported on Sunday (June 9) that residents of the region are pointing fingers at Syrian Democratic Forces (SDF) fighters as the party responsible for inciting the fires "as part of a crackdown policy adopted by those militias against the residents to force them to work and deal with them instead of giving their harvests to government centers."
ISIS was also one of those who were accused, especially after they claimed responsibility for burning wide areas of agricultural lands in Syria and Iraq under the pretext that those are owned by the so-called "apostles". The group's Al-Nabaa Newspaper published a report in its 183rd issue of Friday, May 24, which was picked by Enad Baladi, that purported that ISIS fighters burned wide areas of wheat and barley in Iraq and a number of areas in East Syria such as Raqqa, Hasakah, and east Aleppo.
The organization's report entitled: "ٌRoll up your sleeves and start the blockade. May God bless your harvest," pledged that more lands will be burned, and,urged the fighters to burn thousands of dunums and cultivated lands.
Despite the group claiming responsibility for those acts, according to Baroudo, there are hidden hands and international and regional actors who stand to benefit from applying political pressure on the Self-Management.
In light of these accusations, It needs to be asked: Who stands to benefit the most of diminishing this season's wheat harvest which would reduce import rates.
Syria from self-sufficiency to importing
From the late 20th century until the early 21st century, Syria was a self-sufficient country who never needed to import the strategic commodity of wheat. According to official estimates, the average wheat production before 2008 was four million tons, which vastly exceeded local needs, with superfluous amounts being exported to other Arab countries.  
In an interview with the local radio station al-Madina FM on June 10, Youssef Kassem, head of the Syrian regime government's Syrian Institution for Grains, said that Syria, from 1994 to 2008, exported wheat to neighboring countries. He added that Syria was capable of completely meeting Jordan's wheat needs, and part of Egypt's and Tunisia's. In addition, he said, Syria would export wheat to Europe and especially Italy to produce noodles, seeing that Syria was known for its quality wheat. In the years 2009 and 2010, however, production declined, yet Syria was still able to remain self-sufficient, but was unable to export any as a result of a drought.
With the beginning of the Syrian revolution, the Syrian regime's escalating bombardment and it losing wide agricultural areas, wheat production declined significantly. Production numbers varied during last years, reaching only 1.2 million tons last year, the lowest in 29 years (FAO).
Plummeting production numbers pushed the Syrian regime's government to look for alternatives to supply wheat and the answer was Russia, the world's leading exporter of wheat. Syria subsequently bought thousands of tons as it announced several deals in the last two years, most recently in May, when the General Grain Corporation revealed that three contracts have been signed with Russian companies to import 600,000 tons of wheat.
"Syria had enough wheat reserves for five years, but now we are importing wheat from Russia," Abdullah al-Gharbi, the former Interior Minister, said in an interview with the Russian news agency Sputnik in March 2017. "Syria's annual need is about two million tons of wheat, which we import from Russia and pay for in full and in cash." Gharbi also told Reuters on June 25, 2018, that Syria is planning to import 1.5 million ton of wheat, mostly from Russia.
Russia Eying Syria's Wheat
With Syria importing wheat from Syria, Moscow has set its sights on seizing and controlling such a strategic economic sector. The Russian company Sophocrem expressed back in September 2014 its willingness to repair all damaged mills and silos at nominal prices, according to the newspaper "Al Watan", which quoted the representative of the Russian company , Nidal Mohammed Ahmed who proclaimed that "this is a gesture of goodwill from this company to the Syrian state."
In February 2017, the same company announced that it has started construction on four grain mills in Homs governorate with an estimated cost of €70 million. The construction will be a collaboration between Russian and Syrian engineers with the Syrian government covering construction costs. In addition, thousands of tons of wheat will be exported to Syria in an attempt to control the Syrians' livelihoods, thereby easily having them submit.
On a related note, Minister of Transport at the Syrian regime's government, Ali Hammoud, spoke of a proposal that was submitted to establish a distribution center for Russian wheat in Syria, which is possible thanks to Russia's large wheat reserves. According to Al-Watan Newspaper which quoted him back in March 2018, Hammoud said that Russia needs a market to sell its large wheat reserves, and thus Syria was proposed as distribution center for Russian wheat in the Middle East.
Russia places huge emphasis on its wheat exports which by no means is less important than arms and military equipment deals. Russian President Vladimir Putin said in March 2018 that agricultural exports were more profitable for the country compared to exports of arms and military equipment. Putin noted that Russia was the world's biggest exporter of wheat in 2016 with a four-time market share increase, from 4% to 16%.
According to Kassem, head of the Syrian regime government's Syrian Institution for Grains, projections suggest a drop in wheat import rates from 75% to 40%. He revealed that Syria had to import 75% of its needs while local production covered 25%. On the other hand, the current season, thanks to a good rain season and anticipated production of 2.5 million tons, local production should cover 60% of the overall needs.
Meanwhile, Baroudo, the deputy director of economy and agriculture at the Self-Management's Executive Board, said that the Self-Management was planning on buying 900,000 tons of wheat from farmers to secure the area's flour needs. However, as fires and diseases ran wild in some areas, he speculated that production will come down to 700,000 tons.
Baroudo said that the generated amount won't be sufficient for next year's seeding and flour needs. As such, the Self-Management will have to import and buy wheat from other countries, such as Russia, Ukraine, and Romania. 
It seems that no one is bothered to investigate the causes of the fires and determine the responsible party to the detriment of Syrian farmers who eagerly wait the harvest to feed their families, as they stand to suffer the worst for the greed and scheming of dealers and politicians, while fires devour what's left leaving farmers with nothing but a harvest of ashes.
if you think the article contain wrong information or you have additional details Send Correction