Sultan Abdul Hamid Village Opens Its Doors to Families of Martyrs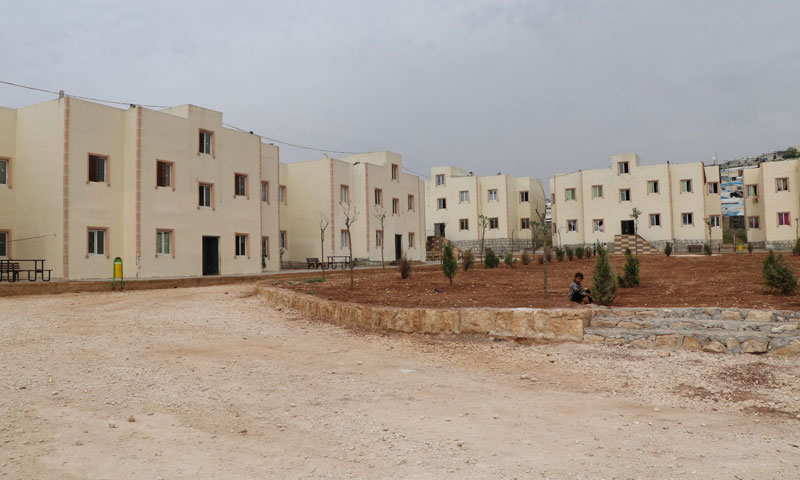 Enab Baladi – Idlib
Turkish organization IHH inaugurated last week the Sultan Abdul Hamid housing project for widows and families of martyrs, in the town of Aqrabat in northern rural Idlib.
The project, implemented in partnership with the Fatah Dar organization and the Turkish Özgür Dar, targets the most affected families such as martyrs' widows.
Safe Haven
IHH set up a village near the Turkish border to maintain the security of its residents, and equipped its "model" housing project with a mosque and a field kitchen. The project was opened to accommodate families from various parts of Syria, said Oday Satouf, speaking to Enab Baladi.
Relief organizations offer food aid to the village residents, provide them with water and health services, and give them access to the various IHH clothing centers on a regular basis.
The village has nine buildings, each including eight apartments, and with each family in a private apartment. One resident of the village, Reem al-Qaddour, told Enab Baladi that the new housing provided her with a safe shelter after she was forced to flee her village of Ma'aret Hurmah in southern Idlib due to intense fighting and shelling.
Reem said her children are now able to play safely around the village, and go to the mosque without fear of airstrikes.
Compounded Difficulties
Laila Hussein's husband was killed while fighting alongside Syrian opposition factions, and left her with five children and no means of providing for them. Laila described to Enab Baladi the bitterness and hardships she faced after his departure, saying that the difficulties she endured rendered her nearly unable to laugh.
Securing children's needs of food, clothing and medicine was a great challenge for her, but she now feels some relief after the village provided her with a home and her children with the basic necessities.
IHH is active in the north of Syria through its main office in Bab al-Hawa, as well as its branches in Khirbet al-Joz and Afrin. Along with a number of other humanitarian organizations and associations, IHH is involved in development projects that are concerned with securing livelihoods and covering the needs of vulnerable groups affected by conflict.
A number of projects have been initiated for the model housing projects, the most prominent being the new village of al-Hayat al-Jadida, or New Life, which aims to accommodate the war-affected and the forcibly displaced, including widows, families of martyrs and the disabled. So far, only the first housing block has opened, which includes 1,600 apartments each with 3 fully-equipped rooms. The same applies the village of Abwab al-Rahma, or Doors of Mercy, which contains 100 apartments.
if you think the article contain wrong information or you have additional details Send Correction