Private Tutoring Flourishes in Damascus in the Lead-Up to National Exams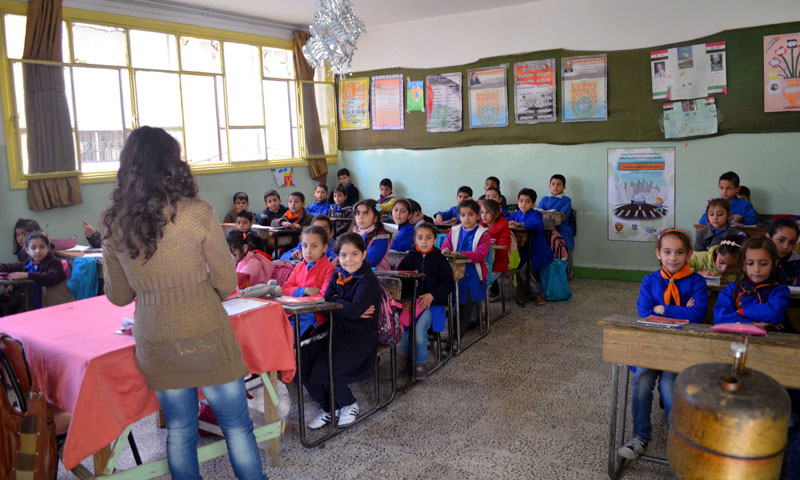 As the primary and secondary standardized exams nears, the private tutoring market in Damascus gains momentum and the peak of its price, in a trade where both sides seek to be winners. Parents of students are "investing" in the future of their children, and teachers are compensating for their low wages under difficult economic and living conditions.
Although private tutoring is "old-fashioned" in Syria, and is linked to public concerns about certification exams, especially secondary, they are now a more pressing need for students, with the change in curricula last year and the higher standards for university admission.
Conversely, the prices of hours of private tutoring in homes, and exam preparation courses in language institutes increased markedly, as reported by the Enab Baladi correspondent in Damascus after he met several teachers and students.
Thousands of Pounds Per Hour
While students of basic education certificate (ninth grade) and the secondary school require less tutoring, science students seem more in need of these lessons, as confirmed by Abu Samer, who asked to be anonymous for security reasons, a father of "scientific Baccalaureate" student in Damascus.
Speaking to Enab Baladi, Abu Samer said, "I had to hire private tutors because of the pressure and difficulty of the curriculum, as well as poor teaching in schools in general."
As for costs, Abu Samer explained that the price of a private tutoring session for the English language is up to SYP 6,000 (USD 12), while an Arabic language lesson is priced at SYP 10,000 (USD 20), rising to about SYP (USD 24) 12,000 for science subjects such as mathematics and physics.
Private tutoring is not restricted to science and language, as Ranim, who requested that her bane be changed for security reasons, uses private tutors to complete her literary subjects for her high school diploma, such as history, geography and philosophy, explaining to Enab Baladi that the price of one hour of each subject ranges between SYP 6,000-9,000 (USD 12-18).
Institutes Defy Government Decisions
In addition to private tutoring at home, language institutes are active in setting up student exam preparation sessions, intensive group lessons based on solving previous exam questions, and training students on how to invest their time during the exam.
A director of one of these institutes told Enab Baladi that he "tries as much as possible to help students succeed, so he employs experienced and high-level teachers."
The director, who asked that neither he nor his institute be named for fear of prosecution, said that teachers are asking for high salaries, "but certificates determine the fate of students and cannot be taken lightly," as he put it, adding that the cost of one mock exam for each subject reaches SYP 10,000.
Enab Baladi reached out to an English teacher working at the institute, who in turn confirmed that he tried not to raise the prices of his lessons during the examination period, which makes him get paid less compared to what he gets for a month's work at the institute."
The teacher, who asked to remain nameless, added that he receives 10,000 SYP for the examination session, whether it lasted one hour or more.
The teachers who work in these language institutes are afraid of the legal consequences of their work, as Article 3 of Legislative Decree No. 73 of 2011 forbids employees of the Ministry of Education, be they teachers, administrators, educational supervisors or professional counselors from working in language institutes, under the liability to legal accountability.
The Government "Complains"
The legal prohibition of teachers from working in private institutes is accompanied by a governmental complaint of the phenomenon of tutoring, which was raised in the People's Council and during discussions with officials of the Ministry of Education in the media.
According to a director in the Ministry of Education, speaking to the pro-regime radio "Sham FM" in February, the Ministry fined the teacher who offers private tutoring SYP 500,000 (USD 1,000), if caught.
On the other hand, this prohibition does not appear to be strictly enforced, as indicated by a large number of students attending private lessons. This is demonstrated by the statement of the head of the teacher's union in Damascus, and member of the People's Council of Syria, Ahd al-Kanj, in November last year. Speaking to local newspaper al-Watan, he emphasized that the ban on private tutoring needs to be complemented by raising the salaries of teachers.
if you think the article contain wrong information or you have additional details Send Correction