Modest Response to Manage Displacement Crisis in Idlib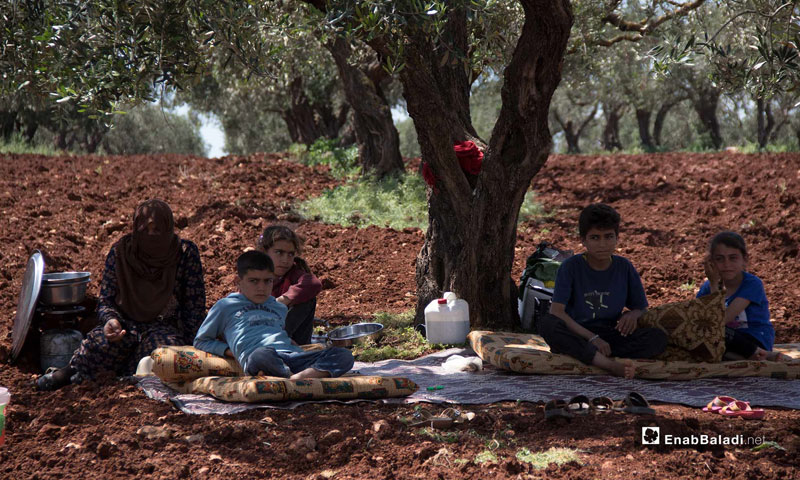 Enab Baladi – Idlib
People displaced from areas of ongoing fighting in northern Syria have recently had to face a difficult reality after taking up home on farmlands, amid accusations that local organizations are not doing enough about the crisis.
Since last April, western Hama and southern Idlib countrysides have witnessed a massive exodus towards the northern regions of Idlib and the border with Turkey. This occurred as a consequence of the military campaign launched by the Syrian regime and its Russian ally providing aerial support.
Displaced people in the area complained to Enab Baladi about the idleness of humanitarian organizations providing very little aid relative to their widespread presence in northern Syria.
Hiam Abu Rashid, from Al-Sharia village in West Hama countryside, told Enab Baladi, "My children and I were displaced under fire and shelling. Now we live under an olive tree just like everybody else here, among animals and insects, and subject to all sorts of harsh environmental conditions."
Living with her children, one of whom is only a few days old, Hiam added, "They were more merciful to animals than to us. We live under an olive tree without a tent or any basic utilities."
Activist Dulama Ali, a supervisor at one of the camps in Atme, says that tens of displaced families still live on farmlands months after they were displaced from Hama countryside after the military campaign.
Dulama told Enab Baladi that, "even those who live in tents still need basic utilities, especially water and food, let alone the nonexistent infrastructure, absence of humanitarian organizations or proper care."
The more the bombing in Idlib countryside intensifies, the more people are displaced as a consequence. During the last wave of displacement, thousands of people were displaced from Kafranbel, south of Idlib.
What Could be Provided?
According to the director of the Response Coordinators Team in northern Syria, engineer Mohammad Hallaj, the number of displaced people in the current crisis was surprising to everyone.
Hallaj clarified to Enab Baladi that, "many villages were bombed with around 21 completely destroyed. We're talking about more than 500,000 displaced in 4 months."
Hallaj explained that "most organizations' plans are related to the state of emergency, and most of them operate under an  emergency framework for the displaced."
According to the director, the process is related to the so-called "NGO customs" which is to assess the needs of the displaced. This means that every organization assesses the needs of every region and relays those needs to donors who then respond accordingly.
He believes that the intensity of displacement has hindered the work of humanitarian organizations. He pointed out that, "the work of these organizations takes time. It takes time to communicate projects to donors and then having them approved, and then delivering aid and distributing it to the displaced."
According to Hallaj, the team has documented over 1,100,000 people between forced displacement and otherwise in northern Syria since mid-2018 up until last May, which rendered humanitarian response very difficult.
On the other hand, constantly changing the location of those displaced in order to find appropriate services makes the work of these organizations even more difficult. This is because names are then registered and then erased more than once on top of the crowdedness of the cities.
According to the Response Coordination Team, the escalation led to the displacement of 65,452 families (525,438 people) and the killing of 568 civilians, including 162 children, since April 29 and until May 27 of this year.
The Syrian-Turkish border on Friday, May 31, witnessed popular demonstrations organized by the displaced and media activists in order to break through the borders and pressure Turkey and the European Union to stop the attacks on Idlib.
The region is governed under the Turkish-Russian Sochi Agreement in September 2018 which stipulated a ceasefire and established a demilitarized zone, but this agreement has been widely violated since it was signed.
if you think the article contain wrong information or you have additional details Send Correction