"Ewaa" Project Supports House Owners and IDPs in Idlib and Aleppo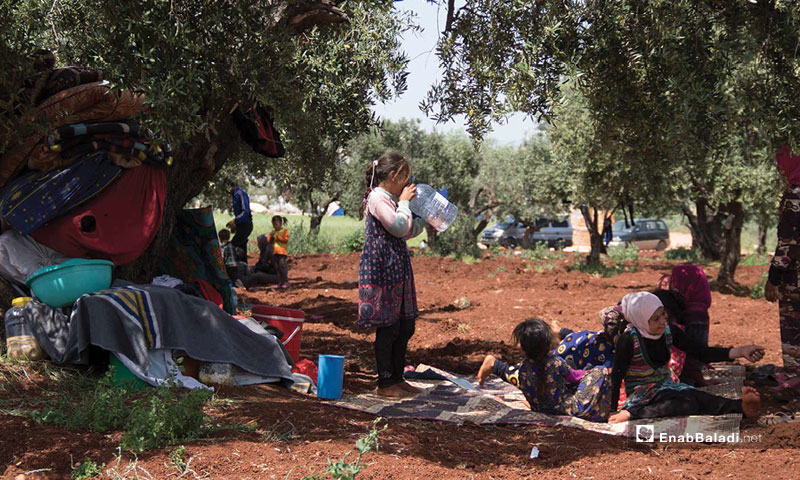 Idlib ـ Ewaa project (Housing) supports both house owners and IDP tenets in areas in Idlib and rural Aleppo.
The project is implemented by the Bonyan Organization in Sarmada, Qah, Sallwah, Atmeh and Tal Adeh in Idlib and the al-Atārib, al-Jeineh, Abian, Mizanaz, Kafr Halab and Urem Al-Kubra in Aleppo.
The Organization shared registration forms with owners of buildings in need of restoration in April and selected 62 buildings, designated for accommodating 260 families, which it will provide with free housing for a year, Ahmad Qattan, the director of the project, told Enab Baladi.
Bonyan's engineering team conducted field visits to inspect the selected buildings and compare them to the standards set, as to start the restoration operation early in July, under a partnership with several international organizations.
The project's directorate estimated the restoration period with about two months, after which the selected people would be capable of moving into their new shelter.
Going for the Most Vulnerable
With having thousands of hundreds of IDPs and escapees in west-northern Syria and after the most recent, yet ongoing, wave of displacement, which amounted to half a million persons according to the Response Coordinators' statistics on June 17, the beneficiary families are being chosen according to the "vulnerability" criterion.
The project, in principle, targets the families living in the open air, in handmade tents, forsaken or unfinished buildings, the project's director told Enab Baladi.
The beneficiaries are estimated with about 1560 persons, who to utilize the project's privileges have to meet the organization's conditions, including that only first-degree relatives house the same apartment.
The families are required to keep the buildings clean and refrain from bringing pets in, while they will be provided with furniture, food, water and electricity.
The Organization is to choose which family gets which room and is also responsible for signing the contract between the family and the owner of the building, one that guarantees a free stay for a year, in addition to follow up visits and reporting the resident's needs to the donors.
The futuristic understandings concerning the contracts, once the residency period ends, is left to the building's owner and the people themselves.
Bonyan is an independent nongovernmental nonprofit organization, concerned with the Syrian affair. Starting in 2004, it kicked off in the city of Aleppo, northern Syria, and was registered in Turkey in 2014.
if you think the article contain wrong information or you have additional details Send Correction