Yazidis in Syria: Dark Present, Awaiting Recovery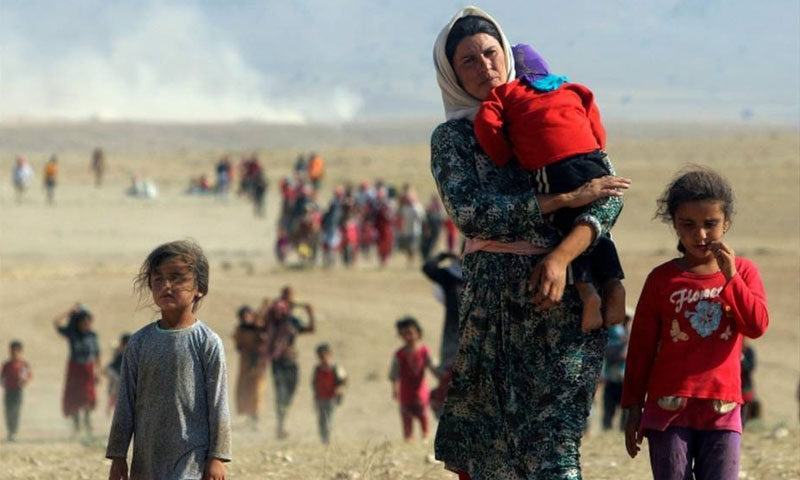 Yezidis have occupied the headlines of international news over the past years, since the Islamic State (IS) forces invaded their villages, and murdered and kidnapped thousands in 2014, citing their being "infidels" to justify their actions.
When the Syrian Democratic Forces (SDF) declared the defeat of IS, on March 23, many women and children who experienced unspeakable horrors during their years in captivity returned to their homes and communities.
Yazidis are an integral component of Syrian society, giving richness and diversity to its culture. They belong to the Kurdish ethnic group and speak its language.
A Religion that Does Not Recognize Evil
The Yazidi religion dates back thousands of years, according to the director of the organization Ezdina and the magazine Zahrat az-Zaytoun, Ali Isso. He told Enab Baladi that the Yazidi faith is not missionary, but is monotheistic.
Yezidis do not recognize the existence of forces of evil, nor the devil, which followers of other religions have found problematic, considering that belief to be a tribute to the devil, or even devil worship.
Generations of Yezidis have held memories of 72 massacres throughout history. Isso said that the fact historians and intellectuals have labeled them as "Satanists" has justified others in attacking Yazidis and spreading all manner of unsavory rumours about them.
Isso indicated the richness, diversity and tolerance in Yezidi religious rites, as one ritual involves the prayer "O' Lord, have mercy on your slaves, and us after them." Another example is their circumcision ritual, which includes placing the child in the custody of someone from another religion, and at the moment of circumcision, when blood drops onto the handkerchief used by the custodian, they become a "brother in blood" and are treated as members of the family.
Oppressive and Discriminatory Policies
Syrian Yazidis are concentrated around the city of al-Hasakeh and its villages, as well as Aleppo and Afrin. According to Isso, Yazidis suffer from "deprivation of their civil and social rights, and racist policies imposed on them by successive regimes in Syria. These regimes have adopted policies of constitutional non-recognition of Yezidis present on their historic homeland."
Additionally, Yazidis have not been included in the personal status law as religions in Syria have. Their testimonies are not admissible in court or in official proceedings, and they are prevented from performing their religious rites or establishing places of worship.
Their children are also required to learn Islamic law in schools and are denied the right to speak their mother tongue. Isso pointed out that this is a violation of the Arab Charter on Human Rights, which Syria ratified in 2007, which states: "Minorities shall not be deprived of their right to enjoy their culture or to follow the teachings of their religions."
During decades under the Baath Party, Syrian Yazidis were not given any opportunities to participate in political life. Isso said that the same was the case with most Syrian opposition platforms, which excluded Yazidis from negotiations and international talks, and from the Geneva process generally.
Yazidi activist Najbir Derbas told Enab Baladi that the Yazidi community has managed to preserve its culture and religious affiliation, despite the ban it has been subject to by the Syrian regime, and repeated attacks by extremist factions.
Celebrations with Historical Roots
Yezidis celebrate the New Year on the first Wednesday of the eastern month of Nisan every year – the Eastern calendar deviates 13 days from the Gregorian calendar. They gather to practice their various religious rites, some of which date back to the time of the Acadians, Babylonians and Assyrians.
They also celebrate holidays associated with their various fasting times, Derbas said, referring to the spread of Yezidi culture among the general Kurdish population. "One may note customs practiced by Muslim Kurds to this day, which are rooted in the Yezidi faith," she said.
Ali Isso said that the relationship between Yezidis and neighboring communities have been mutually agreeable, but that stereotypes have led some to avoid interacting with Yazidis, or even break bread with them.
A Community Awaiting Recovery
Today, more than three thousand Yazidis remain missing, since they were first attacked by IS militants, in what Derbas referred to as a "dark chapter of the human conscience." As for the survivors of kidnapping, Derbas said these they are awaiting these women and girls to return home, are that they will be received as only decent and honorable by the community.
if you think the article contain wrong information or you have additional details Send Correction