Syrian-Armenians: Homesick in the Original Homeland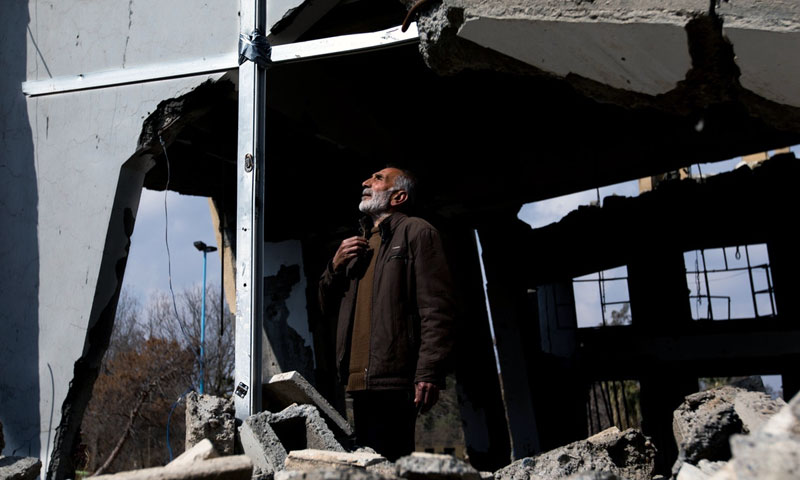 On April 24, Armenians around the world commemorated the victims of the genocide that the Ottoman Empire is accused of committing against them in 1915.
Armenians estimate the numbers killed in this genocide to be around 1.5 million. However, the Turkish government refuses to abide this accusation, claiming it has evidence and documents which demonstrate that hundreds of thousands, both Turks and Armenians, were killed during the Ottoman Empire's war against Russian forces which sought to occupy eastern Anatolia.
Despite the substantial divergence between what Armenian and Turkish memories have reserved of that era, it is certain that many thousands of victims fell, and that more survivors underwent the tragedy of displacement which, in the case of many of them, has led them to then settle in Syria.
Syria: The Old-New Homeland
Armenian presence in Syria dates back to the Byzantine era, as they have had a vast empire that lasted from 321 BC to 428 AD. The influence of this empire reached northern Syria, and took the city of Antioch as one of its four capitals.
The Roman advance towards Armenia then led to the re-emigration of its people towards the Syrian north, as they settled in Aleppo, Kilis, Gaziantep, Kahramanmaraş and Antioch, where they remained until the Mongol invasion.
Armenians then left these areas, establishing a new empire in Cilicia, which lasted nearly a hundred years. When this empire crumbled, they returned to Aleppo, forming the Armenian Diocese there during the fifteenth century.
Armenians then continued to flock to the Syrian areas during the Ottoman rule, but the largest influx thus far only took place in the early twentieth century.
Equal in Rights and Duties
According to the Armenian Ministry of the Diaspora, the number of Armenians in Syria is estimated at around 100,000, with more than 60,000 residing in Aleppo alone. Other sources estimate their numbers to be between 60,000 and 80,000.
Granted Syrian citizenship and becoming equal in rights and duties with the rest of the Syrian people, Armenians have become part and parcel of the Syrian community.
"Generation after generation, Armenians have integrated into Syria, and they consider it their home country, while retaining their Armenian identity," said Armenian-Syrian actor Gerard Aghabashian to Enab Baladi.
Armenians have also established several churches in Syria, the oldest of which is the Forty Martyrs Cathedral in Aleppo, dating back to 1491 AD. Armenians began converting to Christianity since the early third century AD, and most of them followed the Orthodox denomination.
Armenians have also owned private schools and institutes that teach the Armenian language, as well as many publications and magazines in their mother tongue.
Aghabashian said that Armenian integration into Syrian society varies from one region to another, depending on the diversity of its population. "Sometimes Armenians can only be known through their distinctive names, and in other regions they self-segregate and integrate to a much lesser degree. However, this does not negate the fact that they consider themselves Syrians."
Armenians have continuously had a prominent presence and participation in various fields within Syrian life, from politics and the military, to culture and art.
As for their customs and traditions, Agabashian added, Armenians have retained some distinctive foods from their Armenian heritage. However, they are prepared differently from what's common in Armenia today.
They are also known for special religious holidays, and for their commemoration the Armenian genocide.
Renewed Migration
After the beginning of the Syrian conflict in 2011, the proliferation of violence, insecurity and poor living conditions, many of the Armenians of Syria have been forced, like their fellow nationals, to leave their homes and seek safety outside Syria.
According to estimates by the United Nations High Commissioner for Refugees, more than 14,000 Syrian Armenians have returned to Armenia, and obtained asylum or the Armenian citizenship.
Moreover, thousands of Armenians have also left for Lebanon, Europe or America, reducing their numbers in Syria by half or more, with no accurate statistics as to the numbers of those who remained.
Apart from the varying dialects spoken by Armenians of the Diaspora and those living in Armenia, Syrian-Armenians also face a difference in some social and cultural customs in Armenia.
Aghabashian visits Armenia frequently. His impression of Syrian-Armenians there is that most of them "feel alienated, and regard Armenia as a foreign country. They also face difficulties in integrating into local Armenian society."
if you think the article contain wrong information or you have additional details Send Correction