Shelling of Idlib Forces Medical Sector to Operate on Emergency System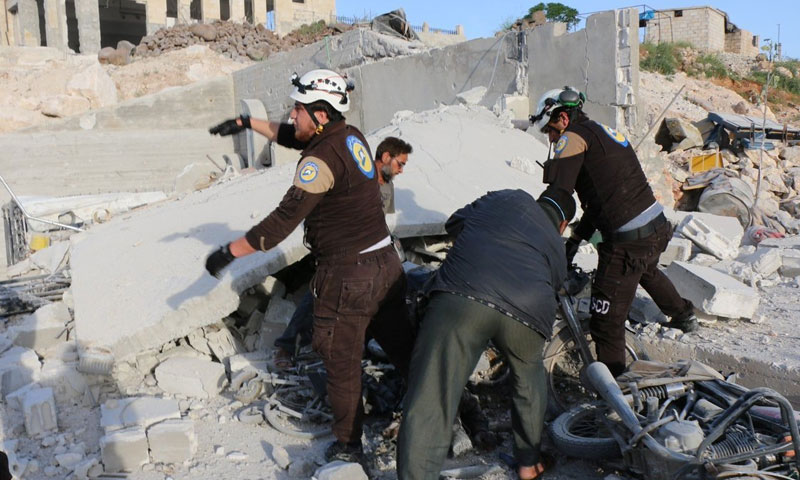 Enab Baladi – Idlib
The health sector in Idlib and rural Hama began operating the emergency system, after most of its facilities were intensively targeted by Russian air forces, which rendered them inoperational.
Paramedics in the area's medical system are working to transport the wounded in ambulances deep into cities far from the bombing, after all medical points and service centers became targets of Russian airstrikes.
According to the secondary and tertiary health care official at the Health Directorate of Hama, Dr. Muhammad Hindawi, most of the facilities of the Health Directorate have gone out of service as a result of aerial and missile bombardment.
In an interview with Enab Baladi, Dr. Hindawi said that the Directorate has since last week been operating within an emergency system in all its points and with all its staff. This comes in conjunction with the escalating aerial campaign targeting residential neighborhoods and service centers.
Russian aircraft deliberately targeted field hospitals located within rocky caves, with high-impact bunker-busting munitions which caused their destruction and neutralization, such as the Kafr Zita Hospital, according to Dr. Hindawi.
As the shelling intensified, ambulances became designated medical points in the context of the military escalation on rural Idlib and Hama. Meanwhile, the Syria Civil Defense (White Helmet) teams and medical personnel suffer from continuous aerial targeting.
Russian and Syrian warplanes launched an intensive bombing campaign in the Syrian north on 26 April, specifically targeting civilian neighborhoods as well as medical points. This is a policy they adopted in other Syrian areas as well, including Daraa and Eastern Ghouta.
On May 6, the Idlib Health Directorate announced its entry into an emergency system in the governorate's hospitals, as a result of the military escalation by the Syrian regime and its allies, and the bombing campaign against civilians and medical facilities.
According to the deputy director of the Directorate, Mustafa al-Eido, speaking to Enab Baladi, the aerial and missile bombardment led to the exit of several hospitals and medical points from service in rural Idlib and Hama. The latest occurred last night, as Russian airstrikes targeted Sham Hospital in Kafranbel, south of Idlib.
Among the targets of Russian airstrikes were a health center in al-Habeet (south of Idlib), a health center in Rakaya Sijneh (south of Idlib), the Pulse of Life hospital in Hass, the Kafranbel Surgical Hospital, and the Orthopedic Hospital in Kansafra in Jabal al-Zawiyah.
Additionally, the clinic in Ma'aret Hurmah in the countryside of Idlib, the field hospital located in a cave in Kafr Zita in rural Hama, Specialized Hospital 111 in Qalaat al-Madiq, the health center of Qastoun, the health center in al-Hawija, the health center in Zerbeh, and surgical units in Kafr Nabudah and Ltamenah, according to al-Eido.
Russian and Syrian warplanes had previously targeted vital and service facilities north of Syria, focusing on hospitals, medical centers as well as schools.
On Wednesday, the Syrian Network for Human Rights documented at least 82 attacks on vital centers, including 28 attacks on schools, 11 on places of worship, 18 on medical facilities and nine on Civil Defense centers.
if you think the article contain wrong information or you have additional details Send Correction