Salim Altoun: Syrian Business Mogul Operating in the Shadows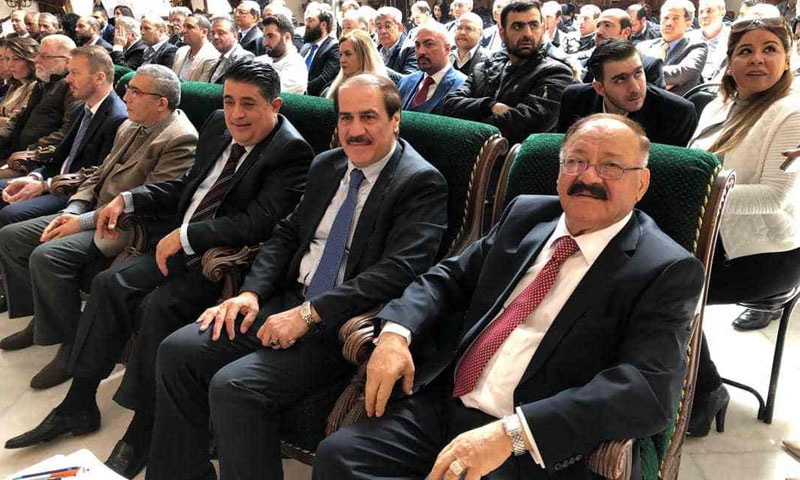 Many businessmen emerged on the Syrian landscape whose business and investment activities are known to the Syrian public, including their relations with the ruling family. However, unlike their peers, other businessmen have managed to work outside of that milieu, opting to operate in the shadows and away from media attention, making it difficult to know the nature of their dealings and the size of their assets, investments and wealth.
One of these is businessman Salim Girgis Altoun, who remained out of the limelight and worked discretely to increase his wealth through investments and business projects in various sectors. He became a business mogul unknown to Syrians, except for those who were familiar with his previous business activities.
Altoun was born in the Venezuelan capital of Caracas in 1940 and founded what became the business empire Altoun Group, by working in Syria's most important economic sectors such as cement and construction, as well as import and export of commodities such as coffee, tea and automobiles. Over the past two decades, Salim's three sons, Sakher, Zeina and Altoun, have continued what their father created.
Proprietor of Large Projects
The most recent appearance of the shadowy man, who is described as having great wealth, was when he announced that the Altoun Real Estate Development and Investment Corporation would start implementing a residential real estate project comprising some 80,000 apartments in the Ma'raba district of Damascus, on an area of ​​more than 500,000 square meters. According to what Altoun told the Syrian website Al Iqtisadi on April 3, the company has over the past years initiated a residential complex including 1,500 apartments in the Jdaydet Artooz suburb of Damascus, and that the progression of its construction has passed 80%.
Despite not being discussed in the media, Altoun's activities range across different sectors. According to Al Iqtisadi, Altoun is the CEO of a real estate development and investment company, and is a founding partner of Altoun Land and Marine Services, with a 50% share in the business, as well as Alton Contracting Company with a 40% share. He is also the general manager of the Mediterranean Cement Company.
In 2011, he attempted to invest in the Adra cement plant in Rif Dimashq after securing the bid for his company. However, the deputy prime minister for economic affairs at the time, Abdullah al-Dardari, obstructed the investment after discovering violations in the contractual conditions; Altoun did not specify in the contract what main equipment he would import or from which companies, or their technical specifications or estimated value, according to Al Iqtisadi on 1 July 2011.
According to a source familiar with his investment activities, speaking to Enab Baladi, Altoun used to receive large contracts by the Military Housing Establishment, which in the past decades was the sole authority for all real estate projects in Syria and headed by Riad Shalish, a relative of former president Hafez al-Assad.
Economic Sanctions That Did Not Last
Due to his "suspicious" economic activity and his support of the Syrian regime, the Council of the European Union imposed on him and his group economic sanctions on Salim Antoun on May 14, 2012. According to a copy of the Council statement that Enab Baladi obtained, Altoun, known as Abu Shaker and a Venezuelan national, has provided financial support to the Syrian regime, and his group helped export Syrian oil in cooperation with Sytrol (a Syrian oil marketing institution) which was previously sanctioned by the European Union.
The Council also imposed sanctions on Altoun's assistant, Youssef Klesiyeh, for setting up oil export schemes with the Syrian Oil Corporation, and for providing revenue and hard currency to the regime. A few days later, Canadian Minister of Foreign Affairs, John Baird, announced freezing deposits and prevention of economic exchanges with the Altoun Group, and imposed personal sanctions on Salim Altoun and his assistant, Youssef Klesiyeh.
However, Altou, in a statement issued by his economic group on 27 May 2012, considered that "the sanctions are not legally justified," and that "there is no legal grounding for these sanctions." The company, he claimed, did not contract or export any quantities of Syrian oil to any entity in any capacity, and that it is easy to prove such transactions through bank transfers, the movement of oil tankers, or documents obtained by relevant parties. He suggested that the parties that have adopted the sanctions policy should have obtained a signed and implemented contract in order to reach the decision of sanctions, saying he was mystified at how sanctions were imposed without such a contract taking place. He added that his "company has never worked in the trading of oil or oil derivatives."
Without a justification or an explanation given by the EU, Salim Altoun, his business group and his assistant were removed from the economic sanctions list, according to a statement issued on October 16, 2012.
Suspicious Dealings
As for the relationship between Salim Altoun and the oil industry, the Syrian businessman's name was mentioned in Saddam Hussein's list of contracts, according to what Enab Baladi has observed. He signed contracts with Arab and foreign politicians, intellectuals and businessmen to supply them with crude oil in exchange for their support for the regime, and assistance in breaking its isolation.
The list, which was published by the Iraqi newspaper Al-Mada at the time, and been carried by Al Bawaba news website since, included 14 names of Syrians. These names included that of businessman Salim Altoun with allocations of 3.5 million barrels, and Firas Tlas, the son of former Syrian Defense Minister Mustafa Tlas, with 6 million barrels, as well as Syrian journalist Hamida Nana with 9 million barrels.
On August 29, 2016, an investigative piece that appeared on the Guardian explored the relationship between United Nations organizations and the institutions of the Syrian regime. The figures in the piece indicate that US $900 million of the US $1.1 billion aid budget of the UN response plan for 2015 was funneled through Damascus and controlled by the Syrian regime.
The newspaper said that the United Nations Relief and Works Agency for Palestine Refugees (UNRWA) signed a contract worth $ 88,671.72 with Alton Group, owned by businessman Salim Alton, to provide generators.
The Empire is Run by the Children
The Altoun businesses empire is not limited to the father alone, who has reached the age of 79 years. In the last two decades, the family has witnessed the emergence of his children as senior businessmen, owners and investors: Altoun, Sakher and Zeina.
Sakher Altoun is his father's partner in Altoun Land and Marine Services with 50% share, and is a founding partner in Sama Syria with an 8% share. He is also a board member and founding partner of the Ugarit Education Company.
He is also the General Manager of Zeina Trading Company along with his sister Zeina Altoun, and the exclusive Hyundai retailer in Syria whose funds were seized after the customs evasion case at Tartous Customs in 2007.
Zeina Altoun, who holds an MBA from the American University of Beirut, is the most influential among Salim's children, and was chosen by Forbes Magazine as one of 50 most powerful businesswomen in the Arab World in 2008.
Zeina owns a coffee factory, and has implemented several other projects including the installment of electricity generation units at phone centers throughout Syria. She also founded the Altoun Cement Company, and built a cement factory in rural Damascus at a cost of US $200 million. She has partial ownership in seven companies, and her annual business transactions are estimated at US $206 million, according to the local website Syrian Days on 5 May 2008.
The youngest son, Altoun Salim Altoun, 35, is the General Manager and Founding Partner of Altoun Contracting Company, with a 60% share, as well as the General Manager and Founding Partner of Altoun & Co. company which transports consumer goods inside and outside Syria, with a capital of 50 million Syrian pounds of which he holds a 90% share.
if you think the article contain wrong information or you have additional details Send Correction