Ramadan Youth Initiatives Aiding the Poor in Rural Aleppo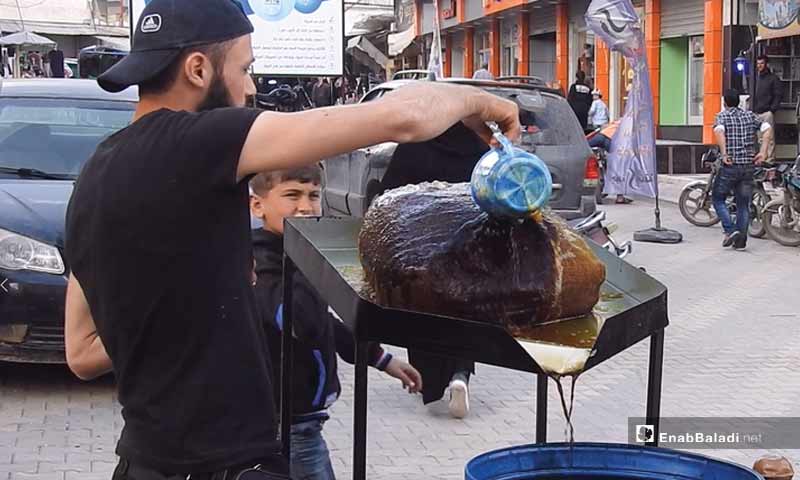 Enab Baladi – Aleppo countryside
The Youth Forum in al-Bab, in the eastern Aleppo countryside, launched the Basket of Goodness campaign to help the poor in the area and deliver aid to them.
The idea of ​​the campaign, which bears the slogan "one bit could promote love," is to place empty baskets in the city's vegetable and food stores, where customers place a single item or piece of food that they had bought as an act of charity, said Mohammed Dabak, a member of the youth forum.
The campaign, which began with the arrival of Ramadan and is set to continue until the end of the month, was launched by a group of young people in the forum who prepared baskets and placed signs on them, and then distributed across main town centers in the area, enabling anyone to donate. These baskets are then collected every evening, and the food items within are distributed to families in need, according to Dabak speaking to Enab Baladi.
Basket of Goodness aims to motivate the local population to contribute to helping those in need, and encouraging them to provide assistance to the poor in any way they can.
The campaign urged a number of traders in the central vegetable market in al-Bab to communicate with the members of the forum, and to provide large quantities of fruits and vegetables, in addition to offering breakfast amid promises to provide more quantities, according to Dabak.
"A thousand liras from you could help a thousand families"
In the city of Suran in the northern countryside of Aleppo, a number of young people launched an initiative called "A thousand liras from you could help a thousand women." The idea is to present the goal of the campaign and then register the names of people who wish to contribute.
One of the organizers of the initiative, Yasser Shabo, said that the launch of the campaign came as a result of the increased rate of unemployment and the presence of families who cannot meet their daily needs. He considered that the payment of one thousand Syrian pounds is not a burden to anyone, adding that the initiative has seen a good response and participation, with the registration of nearly 500 names, as well as distribution of food rations to 100 families in need as well as emergency cash assistance.
Yasser confirmed that the initiative is currently working to provide Eid clothes for children, and agreed with some clothing factories in the city to provide clothing for nearly 400 families at reduced prices.
According to the third Global Report on Food Security issued by the Food and Agriculture Organization (FAO) in early 2019, some 6.5 million people, out of 18.3 million in Syria, suffer from food insecurity and are in need of urgent assistance, with 2.5 million Syrians vulnerable to food insecurity as well.
if you think the article contain wrong information or you have additional details Send Correction