"No to Drugs" Campaign Highlights the Phenomenon of Addiction and its Gravity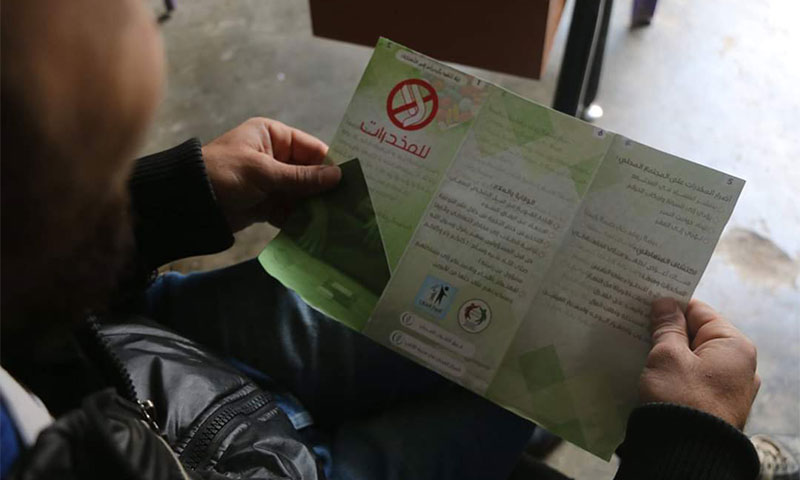 No to Drugs; Warning signs on display as posters, hung on the walls of the city of Atareb and the village of Kafr Amma in the western countryside of Aleppo, as part of a campaign highlighting the danger of drugs proliferation and addiction.
The campaign, launched by the Civil Center in the city of Atareb with the support of Kafr Amma youths, aims to shed light on addiction and its dangers to the individual and society. It attempts to find means of cooperation with health institutions, which are responsible for eliminating the causes of this phenomenon. Addiction has become widespread due to the recession of public awareness of the issue, the lack of legal accountability, and the mounting pressures that push young people to escape from the reality in which they live, according to the coordinator of activities in the Civic Center in Atareb, Shaaban Bakour.
The campaign involves public discussions with locals, to exchange ideas and suggestions, as well as a seminar on the risks associated with drug abuse. Brochures have also been distributed which contain information on the causes, impacts and treatment of addiction. The campaign also disseminated posters that encourage young people to avoid addiction.
Bakour told Enab Baladi that the campaign has found broad circulation and acceptance by the community, as it tackles a serious issue that threatens children and their futures. He expressed his hope that young people will be discouraged from being involved in drug abuse.
Where Do the Substances Come From?
Cannabis and narcotic pills first gained prevalence in the northern and eastern countryside of Aleppo during their control by the Islamic State, and persisted after the Free Syrian Army entered the area in 2016. Drugs are distributed through traders, whose work is not limited to a specific area, but who rather conduct operations that span across the various military checkpoints.
Chief of the National Police, Major General Abdul Razzaq Aslan, said that the narcotic substances "are smuggled by people who then market them in the northern countryside, and the police has monitored the major distribution point as being Azaz." He accused the regime and "PKK-affiliated groups" of promoting illicit substances and encouraging their consumption.
In an earlier interview with Enab Baladi, the police chief referenced "secret caches, and shipping cars through which drugs are transferred, after hiding them among other inconspicuous cargo, in addition to their smuggling via canoes across the Euphrates River, under the pretense of fishing."
In February, the Syrian National Army (SNA) present in the northern countryside of Aleppo, launched a security campaign against traders of narcotic pills and illicit substances. The campaign ended in clashes between SNA intelligence and gunmen accused of drug trafficking in the city of Al-Bab, resulting in one death and one injury.
if you think the article contain wrong information or you have additional details Send Correction