Enab Baladi Publishes Draft Recruitment Law in Autonomous Administration-Ruled Areas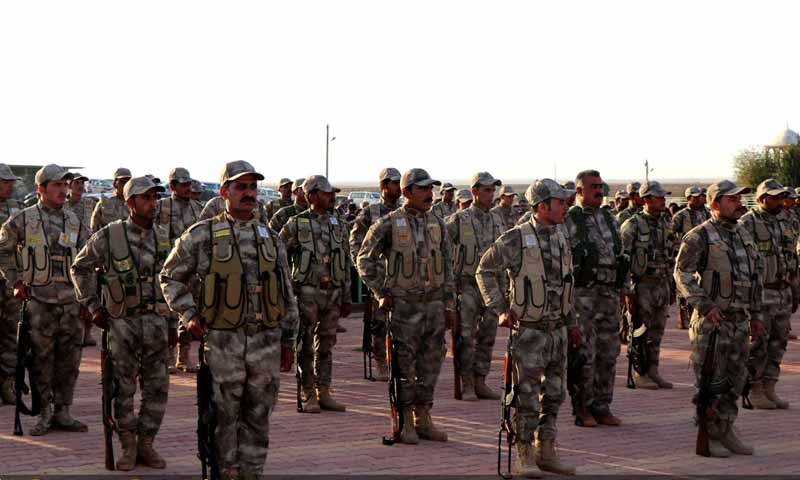 Enab Baladi has obtained an amended draft of the recruitment law, to be enacted in "Autonomous Administration" areas in northeastern Syria.
The new draft of the recruitment law will be approved by the Autonomous Administration on Monday, May 13.
The Syrian Democratic Forces (SDF) impose compulsory military service under the label "duty of self-defense" which includes males above 18 years of age.
The draft defined fighters, those subject to the law, and "duty of self-defense" recruitment centers. It also assigns statuses such as late for service, deferred, exempt, missing and deserting, and designates training camps.
The general principles section of the draft is comprised of 15 articles, and includes conditions for enrollment and retention of recruits, as well as reserve service in the Self-Defense Forces.
As for expatriates visiting Autonomous Administration areas, they are given a document that grants them mobility, on the condition that they complete the process of obtaining Self-Defense Forces documents within 30 days. This document can be issued only once.
According to the draft, the Autonomous Administration imposes a fine of 15,000 SYP on lost document reissues. In case of repetitive loss, the fine is compounded.
The Autonomous Administration grants travel permits to a number of cases, including families of deceased SDF fighters, only children, medical exemptions, those who finished their service, those with foreign residency permits, students abroad as well as those who received admission to universities outside Syria.
Travel permits are also provided for cases within personal sponsorship, whose cost is estimated at one million Syrian pounds. This includes temporary only male children, cases of illnesses, and student deferments.
The Autonomous Administration penalizes those late for service by adding a month to the end of their service. It allows the students to defer for a full academic year, beginning on March 15 of each year and ending on the same date the following year, provided that the students issue their required documents within certain ages.
Service deferment by secondary school students expires at age 21, and age 24 for students at higher institutes. University students can generally defer service until age 26, while engineering and medical students colleges can defer until the age of 28, master's students until age 29, and doctoral candidates until 34 years of age.
As for administrative deferment, returnees from outside Syria can defer their service for a maximum period of six months. Temporarily only sons, and missing brothers, can defer for two years, as well as those whose brothers have not reached 18 years of age and whose fathers are deceased or disabled.
Residents of Arab and foreign countries, with the exception of Turkey and Iraq, pay an annual deferment fee of US $400.
The draft specifies the cash value of exemption at US $6,000, for Syrian nationals, foreigners, stateless individuals and those who obtained Arab or foreign citizenships later, as well as those who had been residing abroad for more than five years, with the exception of Turkey and Iraq.
The Autonomous Administration exempted the sons and brothers of those killed in action who are registered in the "families of martyrs" records – who had obtained a death certificate to this effect.
if you think the article contain wrong information or you have additional details Send Correction