Community Health Campaign Targets Idlib Students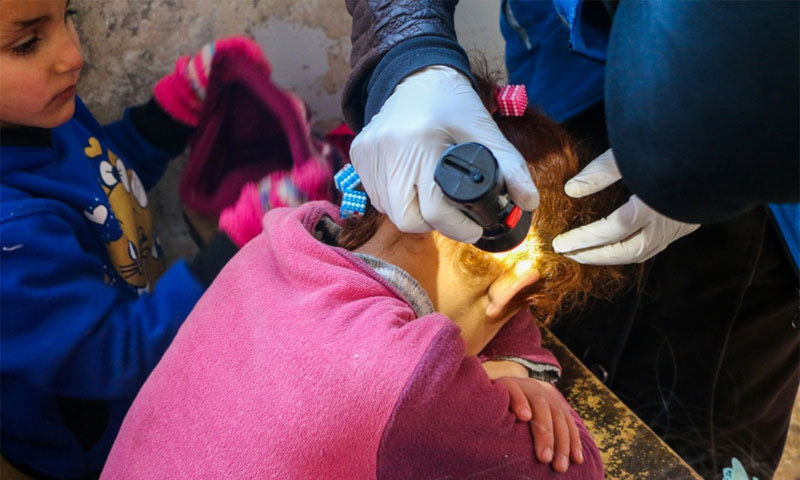 Enab Baladi – Idlib
In the governorate of Idlib, activists are organizing a second community health campaign aimed at school children, treating the diseases prevalent in the region.
In April, Al-Hakim Center, an affiliate of the organization Social Development International (SDI), visited ten schools in the city of Kafr Nabl, south of the governorate of Idlib. They provided medical examinations to 3,658 students as part of their second campaign to promote community health.
The center's volunteers found 450 cases of lice among the students, and 149 cases of leishmaniasis, a disease which has spread significantly in the area.
According to the director of the center, Ahmad Khatib, the campaign was done in coordination with the World Health Organization in order to achieve greater feasibility and access to a greater quantity of medicines. It aimed at treating the affected children as well as their families.
An Appeal From the Educational Complex
In early 2019, the Community Health Group received an appeal from the Kafr Nabl Educational Complex, to respond to cases of lice infestations among students in their schools.
In the first campaign, the health teams examined 1,958 students, and identified 442 cases of lice and 14 cases of leishmaniasis. The students were treated with pyrametrine solution, and awareness-raising leaflets were distributed explaining ways to prevent parasites, and promoting personal hygiene to all children.
Due to lack of medical and health resources, the teams were unable to provide treatment for the children's families in their first campaign. However, in their second round, they managed to provide anti-lice shampoo for both students and their families.
They also referred leishmaniasis patients to the appropriate treatment centers. Leishmaniasis is a parasitic disease transmitted through sandfly bites, which appears in the form of spots on the skin, and its marks on the skin may not recede even after treatment.
Desired Solutions
The managing director of al-Hakim Center, speaking to Enab Baladi, said that the organizations is calling for more coordination with all concerned local councils, as well as local and international health organizations, to put an end to the spread of epidemic diseases, especially leishmaniasis. This coordination is needed, he said, because they require intervention at all levels.
Public health issues in Idlib are exacerbated due to the deterioration of the security situation, and the increasing displacement and continued bombardment by the regime and Russia. Proposed solution include filling marshes and swamps, and the provision of mosquito nets and insecticides periodically.
Statistics by emergency response coordinators in northern Syria, on Saturday April 4, claimed that at least 43,000 people were displaced due to the five-day bombardment that killed 38 civilians and injured 82 others.
According to the World Health Organization, leishmaniasis is a treatable disease which requires a capable immune system, because medication alone cannot rid the body of the parasite. Therefore, the risk of relapse remains in case of immunosuppression. All patients diagnosed with visceral leishmaniasis need to be treated promptly and fully.
The community health program at al-Hakim Primary Health Care Center targets 24 communities in the Ma'rat al-Nu'man area. It provides health services for children, pregnant and lactating mothers, addressing reproductive health, and chronic, infectious and pediatric diseases. It also provides primary psychological support, and conducts on-site visits to schools to provide health services.
if you think the article contain wrong information or you have additional details Send Correction