Campaign to Restore Azaz Public Park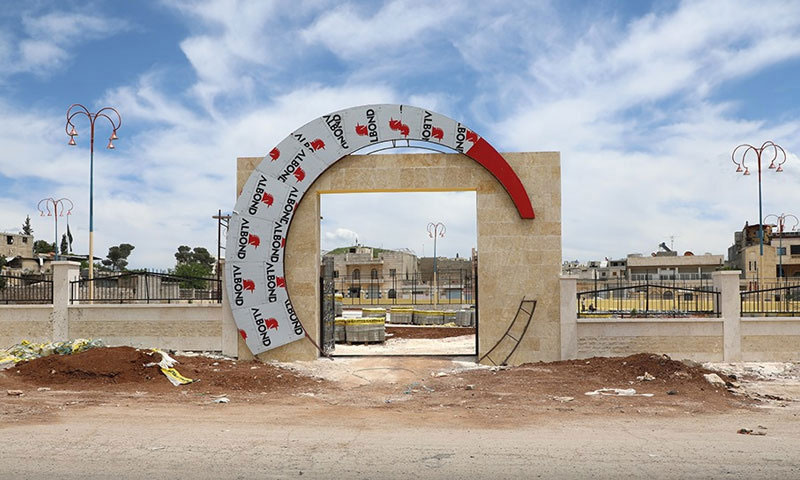 Enab Baladi – Aleppo countryside
Four months ago, the Local Council in the city of Azaz launched a campaign to restore and renovate the city's public park. Maintenance and renovation work is scheduled to conclude, and the park reopened, in the upcoming week.
The head of the Azaz Local Council, Mohammed Yousef Kenno, told Enab Baladi that the aim of the campaign is to rearrange the public park into becoming "similar any excellent park in the world."
The history of the public park in the city of Azaz dates back to the 1920s. It was first established during the days of the French mandate (1920-1946), according to the head of the Local Council, with a small size of about one thousand square meters.
Added to it, in 1965, was a club called "Staffers' Club" which was frequented by all the school staff and teachers in the town of Azaz, where they would converse and engaged in civic, political and social activities.
The park was expanded in 1985, reaching a land area of ​​almost a hectare. Through an investment contract, a restaurant, a cafeteria and a wedding hall were added to the park, and several additional trees were planted there.
The public park suffered from neglect at the beginning of the revolution, according to the head of the Council, as it became a "hotbed" for anyone wishing to open an informal shop or peddle in goods.
A New Look
The Local Council worked to extend a water network to the entire park for the irrigation of trees, grass and flowers. The park was also provided with decent electricity access, and paved with tiles.
The park now has a sports club which will serve as a youth and sports center, a miniature football field, a volleyball court and a basketball court with a high wire fence to prevent balls from being thrown out of the stadium or into neighboring homes.
The Local Council did not receive any support for the restoration of the park, a project which had a cost of about US $40,000  which was covered by the Council's treasury alone.
"At the latest, the park will be ready in a week," the head of the Local Council said. With benches distributed across the park, and many types of roses and trees planted, the last remaining step in this restoration project is paving the streets adjacent to the park with interlock stones.
The Local Council of the city of Azaz falls within the Euphrates Shield areas under Turkish administration, and receives regular financial support from Turkey, which has so far enabled it to implement several public service projects.
if you think the article contain wrong information or you have additional details Send Correction