Campaign to Clean Atarib Streets and Preserve Residents' Health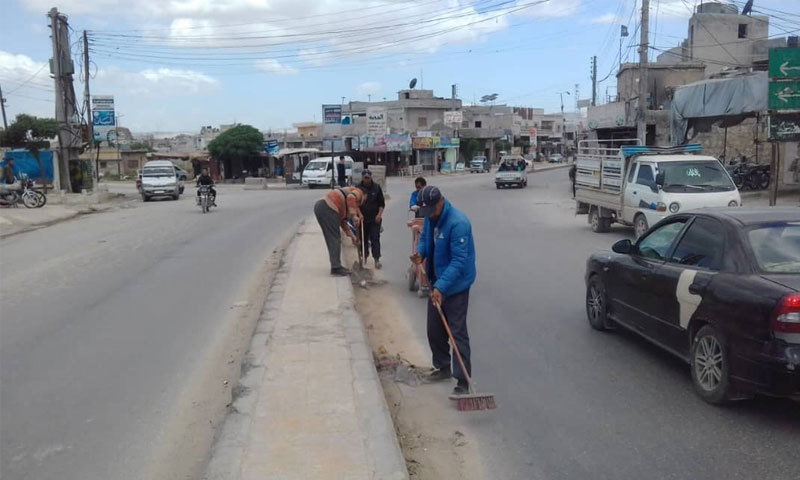 Enab Baladi – Aleppo Countryside
The Local Council of the city of Atarib, in the western countryside of Aleppo, launched a clean-up campaign in cooperation with the People in Need, a Czech non-governmental organization. The campaign aims to clean the streets of the city and eliminate the accumulated waste in its public spaces.
The head of the Local Council, Bashar Obaid, spoke to Enab Baladi about the campaign and said it lasted a week, and that city cleaners continue to perform their duties to maintain the city's streets.
"What prompted us to do a clean-up campaign is our desire to keep our city clean, and to serve everyone living here and to spread awareness to all the residents," Obaid said.
Lack of hygiene and accumulation of waste could lead to the spread of pests and insects that cause many diseases and epidemics. The most prominent of these is the sandfly, whose sting can cause the contracting of leishmaniasis, one of the fastest-growing epidemics in Syria in the last few years.
The United Nations and other health organizations have warned of the spread of epidemics with protracted conflict, and with the accumulation of waste and the lack of access to clean water resources, and the increasing numbers of displaced people overcrowding in poor living conditions, as well as the shortages of periodic vaccines and pesticides.
The residents of the city participated in the campaign and, along with the city workers, contributed to removing waste, which was collected from all the arbitrary dumps around the city and transported to designated landfills away from the city and the local population "in order not to cause harm to anyone," according to the head of the Local Council.
The city of Atarib has received a large influx of displaced people during the past few years, with nearly 17,000 IDPs out of a population of 60,000.
Future Plans
The Local Council is working to keep the city clean, which is achieved through daily care, according to the head of the Local Council. Moreover, they are working to spread awareness among the local population about the importance of hygiene and its necessity in light of present health risks.
Despite the participation of People in Need with the campaign, the Council suffers from the lack of interest or support by civil and humanitarian organizations in general, in its pursuit of providing services and care for the people of the city.
Bashar Obaid concluded by telling Enab Baladi that the Council "would like to thank the organizations that support and care for the city," as the city strives to keep an open door and a welcoming heart to anyone in need.
if you think the article contain wrong information or you have additional details Send Correction