Tension in Qalat al-Mudiq Between Tahrir al-Sham and Ahrar al-Sham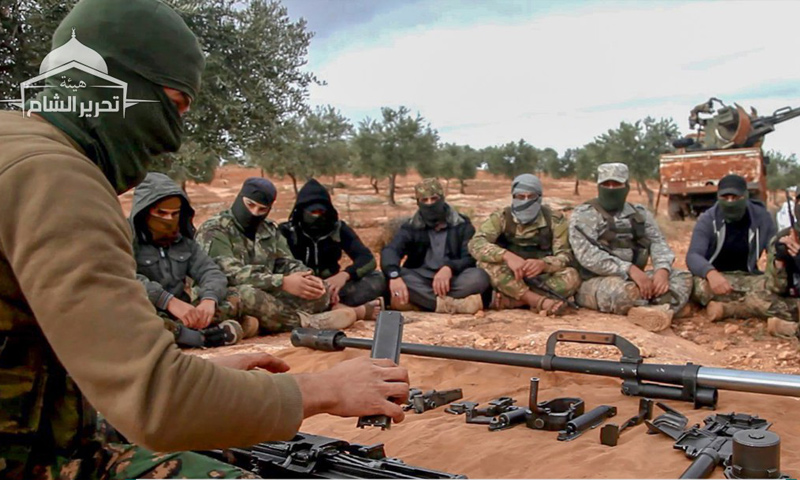 The town of Qalat al-Mudiq in western Hama Governorate has recently witnessed tensions between Tahrir al-Sham and the National Liberation Front-affiliated faction Ahrar al-Sham.
 A military source from the town told Enab Baladi on Wednesday 10 April that the tensions began with the arrest by Tahrir al-Sham of Ahrar al-Sham fighters who were firing mortar bombs at Syrian government forces in Hama Governorate. The mortar fire was reportedly not launched from near the area occupied by Tahrir al-Sham's military operations room in the region.
The source added that the arrests prompted 15 Ahrar al-Sham fighters to raid the al-Qala checkpoint operated by Tahrir al-Sham, capturing the fighters based there.
It is not clear whether a resolution has yet been reached between the two factions in the area, or whether the tension continues following the mutual detentions.
These developments come amidst heightened tension in northern Syria due to regime forces' continuous shelling of residential areas within the "demilitarised zone" agreed upon by Russia and Turkey in July 2018.
Three months ago, Tahrir al-Sham began military operations against FSA factions in Idlib, Hama, and Aleppo governorates, during which the former group was able to gain control of new areas.
Enab Baladi's source (who has asked for his name to remain undisclosed) explained that Tahrir al-Sham has deployed its fighters to the northern part of Qalat al-Mudiq and established checkpoints in this area. These fighters were said to have fiercely discharged their firearms during the first hours of the dispute with Ahrar al-Sham.
The source also said that some Ahrar al-Sham fighters were detained while coming from the Jindiris area of Afrin, which lies within Aleppo Governorate.
The source said that Tahrir al-Sham has used the current tension in order to eliminate remaining elements of Ahrar al-Sham, whose military operations in the area have been reduced since January.
One 13 January of this year, around a thousand Ahrar al-Sham fighters as well as some belonging to the Jaysh al-Nasr faction left Hama Governorate for Afrin. This occurred as part of an agreement with Tahrir al-Sham after it entered new parts of Hama and managed to impose its control.
Enab Baladi's correspondent in Hama reports that the above militants were amongst a total of 2,700 fighters who had been preparing to leave for northern Aleppo Governorate due to their lack of confidence in Tahrir al-Sham after it took full control of new areas in north-western Syria
if you think the article contain wrong information or you have additional details Send Correction