Mobile Children Bookstore in Rural Aleppo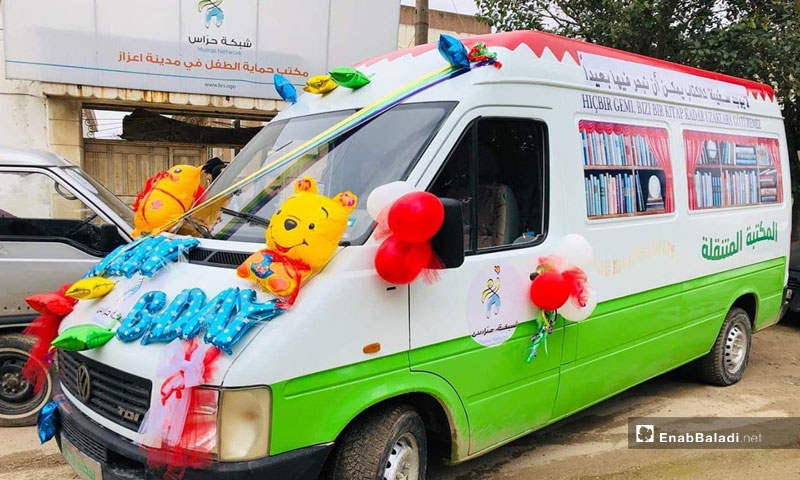 On the streets of Azaz, northern rural Aleppo, an enclosed minivan wanders, loaded with hundreds of books and educational materials, in a unique step to the area.
This initiative is started by the Hurras Network, specialized in children sociopsychological support.
The "Mobile Bookstore" aims to provide the store's services to children in remote and difficult to reach areas, and others located in the mountain and the desert, which are poor in both services and resources.
The Bookstore is accompanied by a team of specialists, whose mission is to provide sociopsychological support activities for children, raising children and their parents' awareness about the basics of protection, in addition to identifying children who are in need for protection, and then, referring them to the departments specialized in addressing their cases.
A number of the area's people reported their satisfaction with the bookstore's idea, as it made books accessible for those who needed them the most. Mohammad Hashem, a man from the area, suggested, telling Enab Baladi, that the bookstore announces its weekly schedule, for he believes that it meets the children's demands, especially those based in camps that are established away from the cities, and where no schools are available.
In an interview with Enab Baladi, Mohammad Abdulkadir praised the bookstore's project, however, said that the project has to be expanded due to the urgent needs, for there are many students who left schools as a result of displacement and the war's repercussions.
"We hope that further care be given to education," he said.
Lila Hessou, the communication official at "Hurras Network", said that the mobile bookstore contains "a very-well elected, rich and integrated, collection of books and stories, which are to contribute to increasing children's self-confidence and better their communication with their mates, while they trigger their ideas and imagination that are boundless."
The Network was keen on the idea that the chosen books be simple and of an easy build up, and Hessou said that the Network took into consideration the size of the population, the desires and inclinations of the beneficiaries, as well as the number of children in these areas.
So far, the Network managed to provide two mobile bookstores and it hopes to raise the number to 80 bookstores in the near future, as to reach all the remote Syrian areas, where children are lacking such activities and services.
The "Hurras Network" was founded in 2012, in Darayya, and it moved to Northern Syria in 2015. Today, it has five offices in western rural Aleppo and Idlib, and another office in northern Aleppo following the latest waves of displacement from Ghouta.
The educational sector in Syria has been largely affected by the war, for the educational facilities have suffered from massive destruction, while schools lost their staffs. Additionally, the Syrian Red Crescent/SRC estimations show that two million children are out of school in Syria.
if you think the article contain wrong information or you have additional details Send Correction