Life Partner on "E-Horse": Syrians Tying the Knot "Remotely"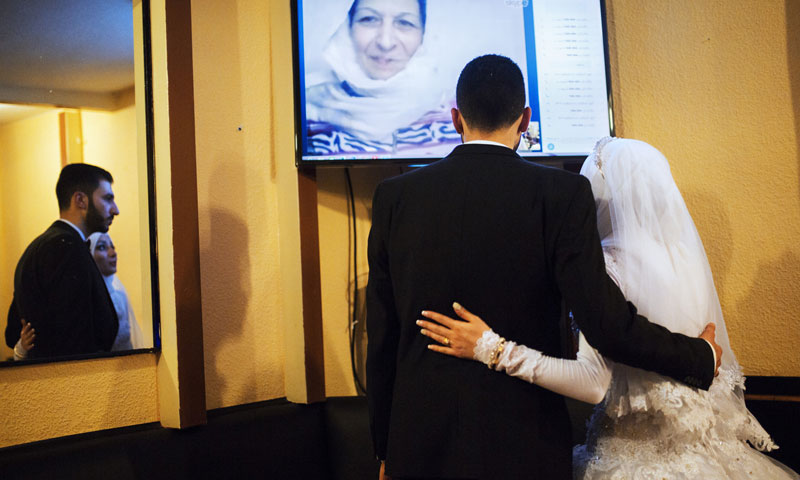 Rama Sharbaji | Practice Training Program
In the past a few years, Syrian young women and men have developed an inclination to search for their life partners and even get married through the internet and via the help of social networking sites, especially emigrants, driven by the internal displacement and emigration waves that the Syrian society witnessed, which, in turn, caused certain changes in some of the traditions and customs of engagement and marriage ceremonies, two relations that are today haunted by both obsessions alike, failure and success.
Engaged on Internet
Maraym Ahmad, an Egypt-based Syrian woman in her twenties, chose to use this pseudonym, fearing social embarrassment, has tied the knot with a Syrian young man living in Turkey a year ago.
"Louay proposed to me, triggered by the strong friendship he has with my brother. We communicated through Messenger to get to know each other better," Maryam told "Practice".
"In the beginning, I was not convinced with being engaged remotely, for I am not familiar with the young man, and I had no feelings for him. However, communication through the internet, helped us understand each other and discover the common ground we had," she added.
Maraym explained that she will travel to Turkey to meet her fiancé and get married there, once she gets the visa, pointing out that she will not be having a wedding in Egypt because, as she believes, "the white dress is happiness that belongs to the couple alone."
Based in Istanbul, a 22-year-old woman, referring to herself by the name Raneen Kmaleddin, has never seen her fiancé, who was based in Syria, throughout their engagement, which lasted for two years. She suffered due to a lack of communication between them on social networking sites, for the young man was busy studying and working.
"I always had the feeling that I needed him beside me. And what exhausted me the most was the comments of the people who surrounded me and how they interfered in my affairs, repeating the sentence: You are not meant for each other," Raneem told "Practice".
"We got married 4 months ago and held a wedding in the presence of our families. Now, we are experiencing all the feelings we could not before," she added, stressing that they overcome the long wait, many difficulties and criticisms.
I Would Not Do It Again
In the case of Yara al-Khatib, this Syrian young woman, who lives in France and refuses to reveal her name for personal considerations, disagrees with remote engagement due to a previous experience that ended with a break-up.
Explaining her opinion to "Practice", she said: "I agreed on the young man, after a repeated refusal on my part. [I did] because of relatives and acquaintances' recommendation and as I was a witness to many successful electronic engagements that involved my female friends; things that encouraged me to experiment myself."
Even though, her fiancé is living in Germany, their relationship lasted for two months only as a result of what Yara called "distance and lack of care", adding: "We did not meet, and we had neither visual nor physical direct contact, which caused lack of warmth's in our communication on social networking sites."
"Engagement in real life are more successful and a lot more secure when it comes to results and continuity," she said.
A Groom[less] Wedding
Despite the fact that there are no official statistics or figures which monitor "remote marriages," the approach has become a trend, with which many Syrians have adapted.
Dalya Mattar, a 25-year-old woman, was engaged to a young man based in Istanbul, who asked his mother to find him a bride in Syria. The engagement was officially conducted after the two families got the chance to know each other in Damascus.
"The familiar contact I had with his mother and sisters was an important factor in getting used to my fiancé and my ability to handle his absence," Dalya informed "Practice."
"My fiancé did his best to overcome the barriers of shyness and stress between us. He called me every day and shared his photos with me wherever he went."
A year from the engagement, which included the process of attempting to obtain a visa for Dalya to Turkey, the two families held a wedding in Damascus that brought together her family, friends and the relatives of the couple. But the groom was not there.
In Syria, weddings without grooms have turned into a common sight in the past a few years. Commenting on this, Dalya said: "The wedding party was for the family and the people we love because it was difficult for my family to give their daughter in marriage without seeing her in the bridal dress."
Double-Edged Sword
Dr. Bassil Nemra, a specialist in psychosocial support and consultancies, believes that the internet has become an important tool for young people to get involved in relationships that aim at marriage.
"The internet is no longer a virtual and ambiguous world, as it used to be earlier on. Contrastingly, a large segment of the people in our society is using it to clearly express itself and ideas," Nemra said commenting on the internet and the role it plays in the Syrian society.
On his turn, psychologist Mohammad Ayoub advises young women, under such circumstances, to follow a normal lifestyle and overcome excessive fear of remote marriage.
Majd Hammami, a psychologist and sociologist, said: "In the case of remote engagements, men and women often do not have a clear idea about each other, and they both cannot see the positive and negative traits they have that might help them accept each other."
"Remote marriages are the fashion of the era. In my opinion, it is a double-edged sword, for the partners are either understanding and clear with each other, thus, capable of continuity, or lacking clarity, a case where troubles abound, and divorce takes place," Hammami added telling "Practice".
"Authorized by Sharia"
In a voice recording, published by al-Watan newspaper, Mahmoud al-Ma'arawi, the first sharia judge in Damascus, said: "Marriage through the internet, conducted in the presence of two witnesses of legal age and the bride's father is a proper and a permissible marriage in terms of Sharia. It is a customary marriage since religion scholars have authorized marriage through correspondence, which is that the man wishing to marry a woman would send her or her father a message. And then, the message is directly read, after which she or her father answers with approval."
According to recent statistics published by the United Nations High Commissioner for Refugees on its website on March 14, 2019, the number of the refugees who fled Syria has gone beyond the mark of 5.6 million persons, the majority of whom are in Turkey, where there are about 3.6 million persons according to official figures, and the rest are based in the neighboring countries and those of the European Union.
In May 2016, judge al-Ma'arawi stated that "the percentage of marriage contracts outside Syria, conducted through powers of attorney, has reached a 50% of the marriages conducted by the Sharia Court, at a rate of about 60 daily marriage registrations."
if you think the article contain wrong information or you have additional details Send Correction