Al-Quds Brigade Lifts Siege of 500 Regime Personnel in the Syrian Desert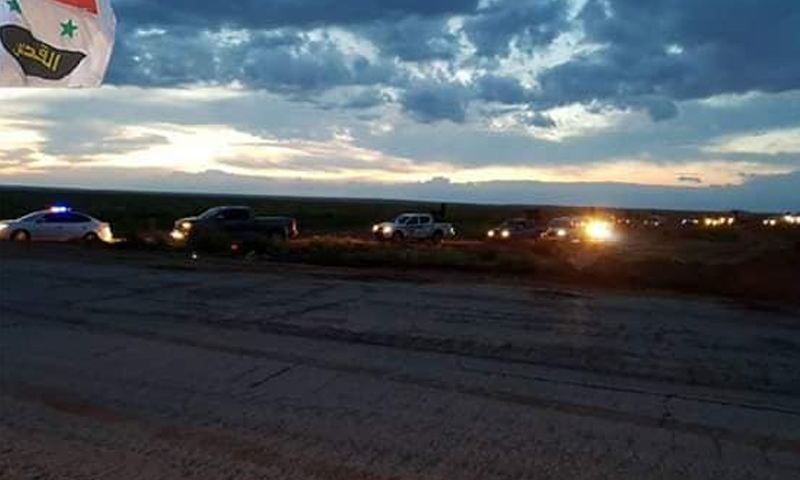 The pro-regime Palestinian al-Quds Brigade has said that 500 of Assad's soldiers have been freed from a siege in the Syrian desert after falling into an ambush by ISIS fighters.
The pro-regime faction said on its Facebook page on Saturday 20 April that it managed to lift the siege surrounding two brigades of Assad's forces. These brigades were on a search mission for Colonel Nader al-Saqr and his "18th Division" group which had become lost in the Syrian desert a few days before, and were located in the village of al-Koum near al-Sukhna town.
The al-Quds Brigade said that the two groups came under a surprise attack by ISIS fighters in the "DD Well" area, which led to several troops being killed and injured. The remainder of the regime's forces became besieged in rugged, hilly terrain.
The ISIS-affiliated news outlet Amaaq released a statement via Telegram on 20 April saying that 20 regime soldiers had been killed and injured in the ambush, which took place near Jabal al-Bashri east of al-Sukhna town in the Homs desert.
Amaaq stated that the attack began on the evening of 19 April when regime forces were trying to track down ISIS fighters. This was following an ISIS attack on Thursday evening which took place north of al-Sukhna.
According to Amaaq, clashes ensued over 24 hours during which various types of heavy weaponry were used. ISIS claimed that three officers from the brigades were killed, along with 17 other recruits. ISIS also claimed to have destroyed four military vehicles and seized seven others, in addition to heavy machine guns, artillery, and ammunition.
ISIS fighters have recently been covertly located in a stretch of the Syrian desert between Homs and Deir Ezzor governorates. Fighters are thought to be spread from al-Sukhna town in Homs and the area between al-Mayadin and al-Bukamal towns in Deir Ezzor.
Within this area ISIS fighters occupy various smaller pockets of land. The group's operations focus on swift surprise attacks against Syrian regime forces in various locations of the desert.
Recent incidents in the Syrian desert have pointed toward a resumption of military activity by ISIS fighters after the announcement of their defeat by the "Syrian Democratic Forces" east of the Euphrates River.
The Syrian regime's campaign in the country's desert areas have been considered the most difficult of all the country's regions. This is due to the desert's challenging terrain and its utilization as a base and hideout by ISIS cells.
ISIS had announced at the beginning of April that it had killed two Russian soldiers and captured a further soldier from Assad's forces in the eastern Homs desert. The announcement was accompanied by a video released by the Amaaq outlet.
On 14 April, the al-Quds Brigade mourned ten of its soldiers who "were killed during a clearance operation in the Syrian desert". This occurred in the Ali Well area south of al-Mayadin town in Deir Ezzor Governorate.
if you think the article contain wrong information or you have additional details Send Correction