Vocational Qualification of Women: Empowering or Stereotyping the Syrian Women's Role?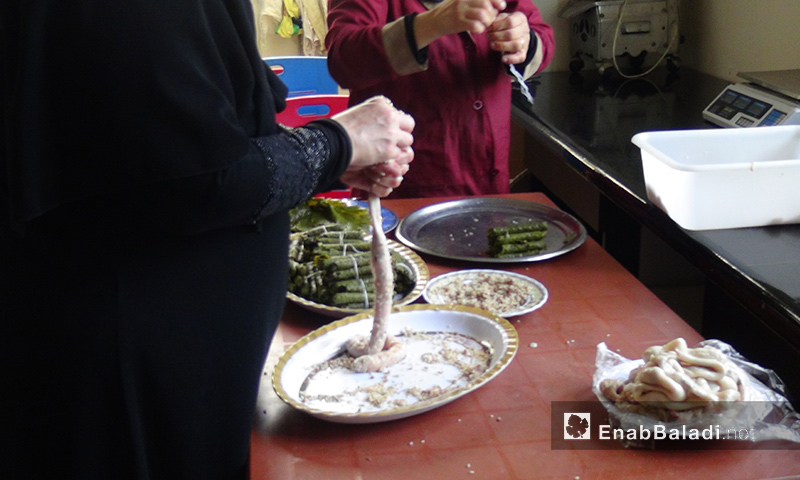 Aliaa started her professional life within the small frame of her acquaintances, in an attempt at investing what she learned in the vocational qualification courses she received, offering her services to family and relatives, which did not hinder her from making money to support her family.
Aliaa, a mother of five from the town of Qurqania, rural Idlib, received training on sewing in a course offered by one of the humanitarian organizations operating in Northern Syria. Under the course, she was awarded a grant of $1200 that enabled her to buy a sewing machine which she uses to work from home.
Aliaa, a 43 years old woman, told Enab Baladi: "For me, sewing was a hobby or something which I do for fun. But, today, it is a source of livelihood, after I learned it as a profession to support my family," pointing out that she received a monetary grant that helped her start a small project based at home.
 "Women's skills are the one to decide"
In Syria, the civil society organizations showed a great interest in supporting women and empowering them at a social level, considering them part of the most "vulnerable" segments, which due to losing the breadwinner had to do social roles they are not used to. Women, accordingly, entered the labor market with what so ever skills they had.
In response, these humanitarian organizations sought to invest in all the skills that Syrian women had and worked to develop them through launching vocational training courses in the fields of cooking, sewing, nursing and embroidery, sometimes in other fields such as developing computer skills, photography and others.
However, the humanitarian organizations' focus on empowering women in specific fields only caused concern about stereotyping women and limiting their role in society, restricting it to sewing and cooking, professions that are seen as monopolized by women.
Malak al-Halak, a social healthcare trainer in Idlib, believes that the organizations' inclination to empower women in specific fields is a "band-aid solution" which can benefit women who have been given in marriage in at an early age and could not, thus, pursue an education after they lost their breadwinners, which triggered the organizations to seek the development of the skills they already have.
In an interview with Enab Baladi, al-Halak added that the inherited traditions in society are the ones that consolidated that the women's role is limited to cooking, sewing and nursing, especially in the local communities which do not support a woman's education that offers her a space to experience other professional fields.
Ibrahim Sarmini, the Emergencies' Official at the "Violate" Relief Organization, which offers vocational training for women, believes that this matter relates to women and the skills and capacities they have. He added that women in our society are of two class: Educated and uneducated.
Sarmini, in an interview with Enab Baladi, added that educated women have greater chances at indulging in professional fields and taking up vital positions; as for the uneducated women, they have become part of the most vulnerable segment, the reason why civil society organizations seeking to utilize the skills which these segment of women has and turning them into jobs that help them support themselves and their families.
But still, Sarmini believes that empowering women in the fields of cooking, sewing and nursing does not restrict their social role. He said: "When we see that a group of women have the ability to learn a specific thing, no matter how simple, we enhance this capacity through offering courses that help them and provide them with grants that qualify them to enter the labor market. This way, we turn women into effective members of society."
Muzna al-Jundi, director of the "Women Now" Organization, Idlib branch, refused the saying that civil society organizations are restricting the women's role through designating them specific vocational courses, pointing out that there are other courses that help Syrian women experience new fields, based on their skills and scientific inclinations, including computer skills, languages, photography, photoshop, media and other fields.
Speaking to Enab Baladi, al-Jundi said: "When a woman with high school diploma seeks us, we direct her to languages, computer and capacity building, because this empowers her in wider fields that help her integrate into the labor market."
Sham or effective empowerment?
About the effectiveness of the vocational training offered to women in Syria, Malak al-Halak, working in Women Empowerment Department at the Youth Association in eastern rural Idlib, said that women benefit from the courses only for a short time and they might be enough to help them support their families in case they get the needed follow up, especially those who lost their husbands and became responsible for raising the children and making a living.
"This is the shortest way for a woman to preserve her dignity and afford her family's needs without having to ask for any body's help," she said.
Halak considers that civil society organizations are conducting follow up of the women's development after they are offered the needed qualification and help them enter the labor market. She also called for opening wider cultural and scientific horizons before them in a manner that supports their indulgence in new fields as to revive the Syrian society.
For his part, Ibrahim Sarmini, the emergencies' official at "Violet" relief Organization, believes that the current women vocational training courses are not enough to equip them with the skills needed for entering the labor market or to achieve income, for they are in need for grants to start small projects, even if it is home-based.
He added: "One course is not enough; the matter needs follow up and development. The entities concerned with equipping women at a vocational level have to continue offering advanced courses to guarantee the realization of the benefit awaited by women."
The number of women breadwinners is increasing in Syria considering the massive number of deaths and disabilities caused by the war, putting these women face to face with economic and social challenges and making them a subject to exploitation in the labor market given the little wages they are offered.
The statistics of Citizens for Syria Organization point out that more than 25% of the operating organizations are targeting women as a vulnerable class of society; accordingly, the majority of the workers are also women, being the most eligible for indulging in private social life issues and communicating with women and children.
In other organizations, women and men have equal access to positions, though women are missing from the positions directly related to strategic and leadership decision-making process by 88%, according to a researcher issued by "Ana wa Hiya" Organization, Her and Me in March 2016.
if you think the article contain wrong information or you have additional details Send Correction