Daraa: Demonstrations Protest the Erection of a Statue of Hafez al-Assad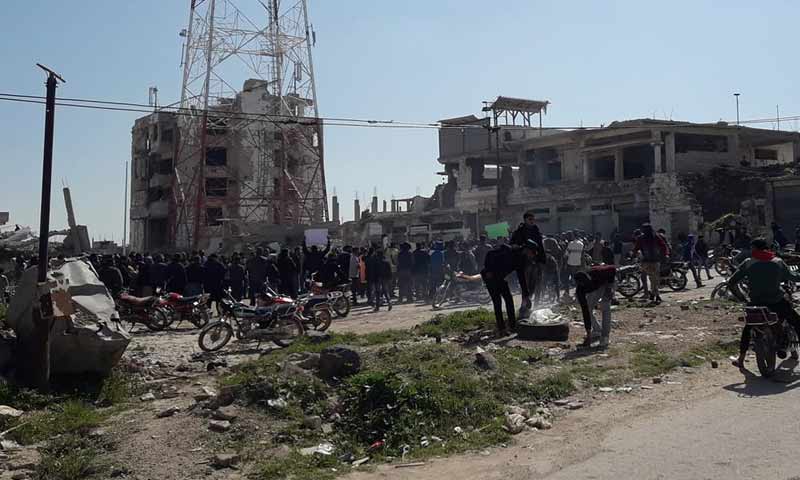 Daraa al-Balad is witnessing demonstrations, where the protestors are expressing their refusal of the return of the statue of former President Hafez al-Assad to the city.
On Sunday, March 10, Enab Baladi's correspondent for Daraa reported that the neighborhoods of Daraa al-Balad are today a scene to popular demonstrations, calling the regime to step down and refusing the erection of a new statue of al-Assad, the father.
في ربيع ٢١٠٩ وتزامنا مع الذكرى الثامنة للثورة السورية المباركة وبعد سنين من العذاب والمعاناة والقتل والتشريد والتدمير….ربيع سورية يزهر ثانية pic.twitter.com/mp05cAiD5O

— د.نصر الحريري (@Nasr_Hariri) March 10, 2019
Nasr Hariri, head of the High Negotiations Committee for the National Coalition of Syrian Revolutionary and Opposition Forces, and other local networks, including Sham Network, have posted videos of the demonstrations in the city's neighborhoods, calling for the regime to step down and voicing slogans in refusal of the return of the regime's grip over the city.
The demonstrators, in dozens, called out: "Long Live Syria and Down with Bashar al-Assad," in addition to "Better Death than Humiliation".
The demonstrations went on the streets when the statue of former President Hafez al-Assad was brought back to the city center, a step which citizens of an area, once held by the opposition, found provocative, not to mention the Syrian regime's loyalists who demanded the organization of a pro-regime demonstration in the area.
The commemorative monument is decided to be erected in Tishreen 16th /November the 16th Square, the city center, amidst official celebrations and pro-regime demonstrations.
Daraa al-Balad had already witnessed anti-regime demonstrations after the latter's control of the city last July, the last of which was held in the al-Omari Mosque last December, which demanded the release of detainees and condemned the circumvention of the settlement deal's terms.
Last July, the opposition factions signed a deal with the regime and the Russian side, providing for the release of the detainees and the non-prosecution of the wanted persons after their status is legalized, in addition to loosening the security restrictions imposed on the people.
However, the regime did not meet those promises; the detainees are yet in the prisons, while dozens of the people who have legalized their status have been arrested, some of whom are former factions' leaders, on the pretext of the personal prosecutions filed against them.
Last August, a month from the city's settlement deal, Daraa al-Balad witnessed the protest of dozens of people, who demanded the release of the detainees and the security grip, as well as their holding to the principles of the Syrian revolution.
The protestors were headed by Adham al-Krad, former commander of the "Free Army" and the "Engineering and Missile Regiment."
if you think the article contain wrong information or you have additional details Send Correction