Arts and Literature Festival In Qamishli,  "The Woman, the Soul of Life and the Alphabet of Literature"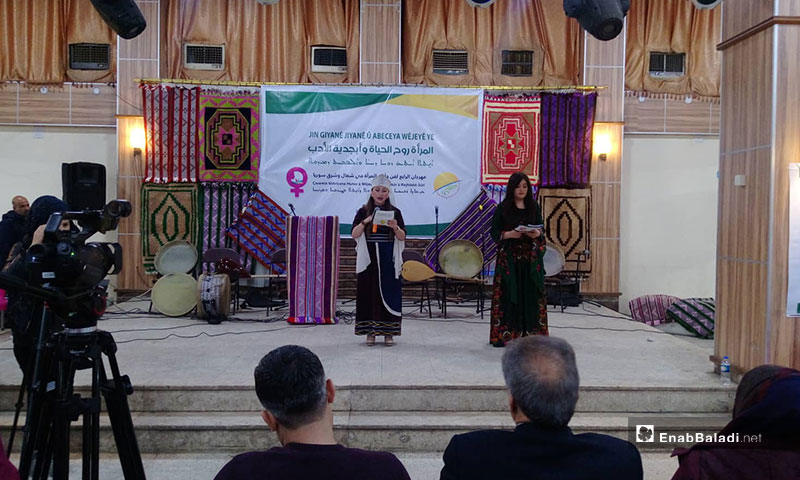 Last week, in the city of Qamishli, the fourth edition of the women's Art and Literature Festival was held, covering north and north-eastern Syria under the title: "The woman, the Soul of Life and the Alphabet of Literature".
Organized by the Cultural Association of Women, under the Kurdish Autonomous Administration, and sponsored by the Committee of Culture and Arts, the festival took place in the first two days of March 2019.
Maryam Tamer, a poetess, journalist and a member of the Festival's Preparatory Committee, spoke to Enab Baladi about the Festival's events and objectives.
She pointed out that a Preparatory Committee, consisting of the unions of intellectuals and writers, Arab and Syriac representatives, in addition to the Cultural Association of women, tackled the festival's organizational stage.
She added that the Festival consisted of dancing, singing and Dabke/folk shows, of the Arabic, Kurdish, Syriac and Circassian heritage, in addition to a folkloric fashion show, representing all the social constituents of northern and north-eastern Syria: "Kurdish, Arabs, Syriacs, Armenians, Circassians and Yazidis," in addition to a theatrical show by a group from Kobanî/ Ayn al-Arab.
The festival was accompanied by an exhibition of plastic arts, sculpture and handmade pieces.
At the end of the festival, women participants, who achieved the first ranks, were awarded in all fields, for their literary, art and handmade contributions.
The invitation to attend the festival was directed to all women, women-related organizations and foundations in northern and north-astern Syria, taking into consideration their cultural, literary and heritage-related diversity.
The festival aims to encourage women's art and literary contributions, as well as shedding a light on these dimensions, motivating and developing them and raising their levels of creativity.
According to Tamer, what makes the Festival that unique is that all the people supervising it are women.
This is the fourth edition of the Literature and Art Festival in Qamishli, held in March every year.
The Cultural Association of Women is a woman concerned, social and intellectual entity, founded in the city of Qamishli last year.
In the Jazira Region, dozens of women foundations and organizations emerged, with the sole object ahead of them, women affairs and causes.
Qamishli is a home for about 450 Kurdish and Arab villages, in addition to several Syriac ones and others that are rather mixed, which enhances the area's cultural diversity.
"Creative Fingers": Exhibition for Art Done by Women in Amuda City
if you think the article contain wrong information or you have additional details Send Correction