Turkey Is to Run Patrols in Idlib as to End Syrian Regime's Escalation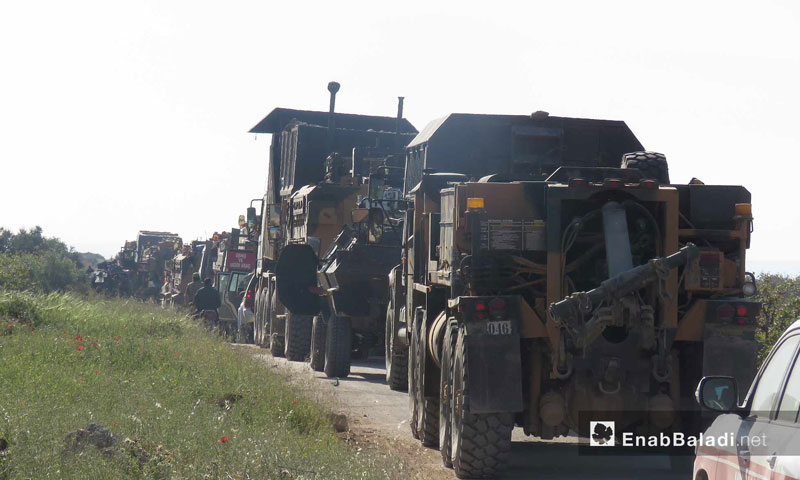 Turkey is soon to start patrols in the demilitarized area in Idlib to stop the Syrian regime's escalating hostilities there.
A source, close to the administration of the Turkish observation posts, told Enab Baladi today, Friday (February 22), that the patrols are to start in the next two days in the de-escalation areas/the buffer zone in Idlib, to keep the area under watch and put a limit to the Syrian regime's indiscriminate barrages.
For ten days, the villages and towns in the western and northern rural parts of Aleppo and the southern parts of rural Idlib have been bombarded by Assad's forces, causing the death and injury of a number of civilians and the displacement of many others, in addition to the destruction that befell the residential areas.
The shelling is considered a violation of the Russian-Turkish deal which provided for the establishment of a demilitarized area between the regime-held regions and those controlled by the opposition in Idlib, the first term of which has been met by the opposition factions in the past a few days, knowing that it stipulated the withdrawal of heavy arms and "extremist" groups from the area.
Turkey has not officially declared its intention to start patrols in the area; it has not also commented on the recent violations of the Sochi deal.
According to the source, the Turkish observation points in Northern Syria demanded that the civilians in Idlib be informed that Turkey is to run patrols in as to restrict the regime's violence.
The Syrian Civil Defense's statistics, published on February 20, point that the death toll of the bombardment that targeted the area in the past ten days rose to 35 deaths, including 11 women and 13 children, and the injury of no less than 75 persons, including nine women and 22 children.
On the same note, the National Coalition for Syrian Revolutionary and Opposition Forces demanded that Russia be held accountable for the shelling and the ongoing and successive violations of the deal, stressing "the importance of Idlib's deal and the necessity to protect it and prevent the regime and Iranian militias from violating or breaching it."
if you think the article contain wrong information or you have additional details Send Correction