Rural Aleppo: Explosions on the Rise in Manbij City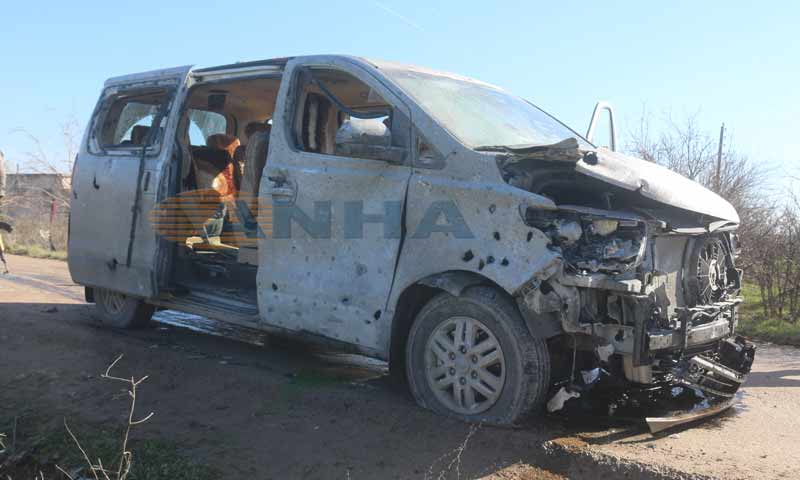 The city of Manbij, eastern rural Aleppo witnessed several explosions in the past two days, which led to the death and injury of a number of persons, including civilians.
Today, on February 2, the Hawar News Agency reported that a mine was exploded in a car, transporting teachers on the al-Saan roadway, western Manbij, causing the death of the driver and the injury of other persons.
It explained that the mine was planted on the al-Saan roadway and caused the explosion of a car, van type, that transported teachers who headed to work.
Yesterday, Friday, another mine was exploded through a remote control near the house of Mohammad Abu Adel, the director of the Manbij Military Council, which led to the death of several civilians and caused damage to the place.
Through its Amaaq agency, the "Islamic State" (ISIS) adopted the explosion near the house of the commander, which took place, yesterday, February 1, saying that it rendered malfunction a  4×4 vehicle that transported militants through an improvised explosive device.
Manbij is located 80KM to the east of Aleppo, and it is controlled by the Kurdish "People's Protection Units." Ankara and Washington have already agreed to the removal of the Units from Manbij, but the agreement is not implemented yet.
The explosions intensified in the city since the America administration announced the withdrawal of its forces from Syria. On January 16, the popular market witnessed an explosion that targeted a joint patrol, consisting of US forces and troops belonging to the Units, which came to be called the "Princes' Palace" explosion.
The explosion led to the death of 15 persons, including four US soldiers, and the injury of others, civilians and militants.
"ISIS" adopted the explosion, saying that a "suicide bomber," wearing a suicide vest detonated himself while targeting a US-led coalition patrol, according to Amaaq.
In reaction, the Manbij Military Security conducted raids in the city and arrested people, suspected of involvement in sabotage operations in the city and having a relation to the "Princes' Place" explosion.
Last Tuesday, the city of Manbij also witnessed the explosion of an improvised explosive device which targeted a car affiliated with the Military Council near the al-Shuhadaa/Martyrs Cemetery, causing the injury of the driver in addition to other material damages according to the Syrian Observatory for Human Rights.
"ISIS" also adopted this explosion, saying that it used an improvised explosive device to detonate a military vehicle near the al-Matahen/Mills roundabout on the Manbij roadway, which led to the death and injury of several persons, according to Amaaq.
These incidents come one month after the U.S. President Donald Trump's announcement of the withdrawal from Syria according to a plan that will be implemented "slowly."
if you think the article contain wrong information or you have additional details Send Correction