Promises to guarantee their rights: Teachers of Idlib elect members of Teachers' Union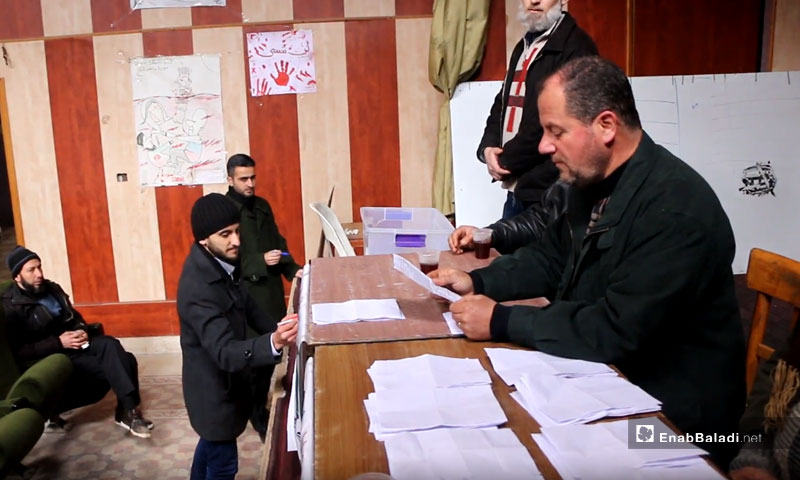 While participating in the constituent elections of the Teachers' Union in Idlib, Abdel Moneim Saad, a teacher and the principle of Abdul Karim Lathkani high school in Idlib, told Enab Baladi: "Idlib has nearly no unified educational body. So, it was necessary for us to found an institution that gathers teachers under one roof, defend their rights and determine their obligations."
Two months after the inauguration of Idlib's Teachers' Union,  its Executive Council held elections, on Thursday, 31 January, in order to choose representatives of the teaching staff in the city, according to Faez al-Saad, member of the elections' Preparatory Committee.
Al-Saad stated that the aim behind these elections is to form a committee assigned to deal with the teachers' issues, solve their problems and keep the educational process moving forward. He pointed out that all the teachers who are affiliated to the Union managed to run for the Executive Council elections, noting that 750 electors have taken part in the process.
Two seats for female teachers
Jamila Abdel-Hamid el-Zeir, a graduate of the Faculty of Commerce and Economics, explained to Enab Baladi that she participated in the elections because she believed that teachers needed a unifying body, especially with the deterioration of education in Idlib and teachers' condition as well.
El- Zeir added that she had participated in the elections because there were two seats in the union committee for females. The Council consists of 13 seats, two for female teachers and one for expatriate teachers, and the rest for male teachers.
Teachers in Idlib are directly attached to the Free Idlib Educational Directorate, which operates under the Syrian Salvation Government. The Directorate, which is responsible for the educational process in the governorate, is going through difficulties regarding the management of the teachers' affairs, amid the absence of the Teachers' Union that defends teachers and excludes schools' administrative staff.
Teachers had to suffer from the repercussions. The director of Kafr Oweid Girls School, Ahmed al-Maghlaj, pointed out that the most prominent ones include the absence of a law preserving the rights of teachers and deterring the aggressor, in addition to ignoring the teachers' demands by the official bodies represented by the Directorate of Education.
During an interview with Enab Baladi, al-Maghlaj stated that the teachers working for civil society organizations are receiving "high" salaries and this further widens the gap between them and the teachers working in schools affiliated with the Directorate of Education.
The deterioration of the reality of the infrastructure of schools in Idlib has negatively affected the teachers' work, according to al-Maghlaj, who revealed that 70 percent of schools in the governorate of Idlib lack equipment and facilities.
On a report issued on 24 January, 2018, tackling the reality of education in north Syria, the Response Coordination Group pointed out that the number of schools in Idlib governorate amounted to 14,450 with 414,000 students, 51.6 percent of whom are females and 48.35 percent males while teaching staff amounted to 24,200.
As for the damage to schools in Idlib, the report of the Response Coordination Group indicated that only 60 affected schools have been recorded so far, meanwhile the team is still monitoring the damage.
if you think the article contain wrong information or you have additional details Send Correction