Idlib's Women Challenge Education's Obstacles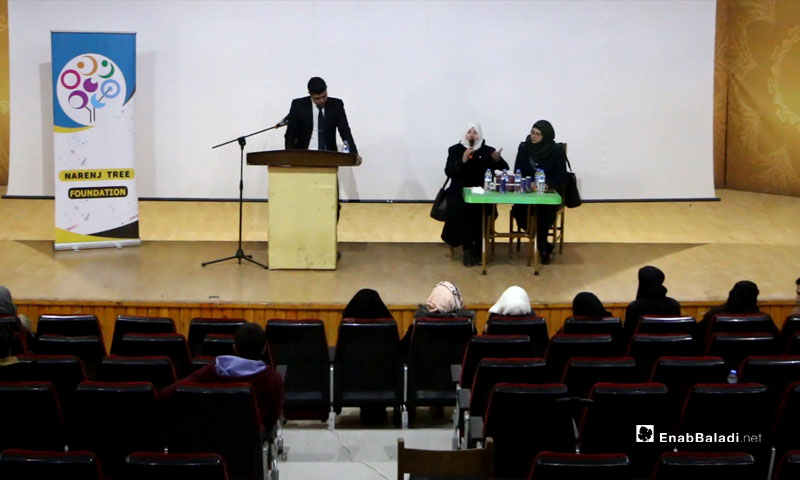 The challenges to the 21-century Syrian women attempting to reach their simplest rights, education, as they are faced with social and psychological barriers, thickened by the war in Syria, were the focal point of Idlib's seminar.
On Monday, February 4, the Shajret al-Narenj/Tree of Bitter Orange Organization organized a seminar at Idlib City's Cultural Center, dedicated to raising women's awareness of their right to education and discussed the key challenges obstructing their reception of a proper education under the conditions which Syria has been enduring for more than seven years.
The seminar was titled: "Women's Education Obstacles and Challenges between Delineation and Solutions", attended by experts and trainers from various fields, law, education, psychology and religion, according to Abdullah Halak, director of the Education Department at the Shajret al-Narenj Organization.
Halak told Enab Baladi that the seminar discussed several themes, aiming at coming out with results as to limit the lack of awareness at the level of girls and women's education in Syria, pointing out to an agreement paving the way for conducting courses and programs for empowering women in the field of education.
Given that psychological effects are a preliminary impact for girls dropping out education, Widad Rahal, a trainer in the field of social and psychological support, participated in a seminar for raising the families and women's awareness of the risks of abandoning school and education.
In an interview with Enab Baladi, Rahal, Head of the Syrian Women Associations, spoke of "the symptoms which women show immediately after being deprived of education."
She added: "The atmosphere was not that of a seminar, but rather it was more of a discussion and a dialogue between the participants and showcasing the problems of this field."
The seminar about girl's deprivation of school addressed several ideas, on top of which was that sharia does not deny women's right to education, according to the seminar attended by Enab Baladi, in addition to monitoring the problem at a legal, social and psychological level.
The Syrian women are faced with many challenges when it comes to their right to education in the shadow of inherited traditions that are yet ruling women's lives, preventing them from practicing their basic rights of education and work, the thing which led many girls to drop out from schools.
The phenomenon affected the Syrian refugees the most, amidst UN warnings of refugee girls abandoning school throughout the world.
The number of refugee girls at high school did not go beyond half the number of their male counterparts, speaking of enrollment, though girls constitute half the number of the refugees who are at school age, according to statistics issued by UNCHER, the UN Refugee Agency, in March 2018.
The "Butterfly Effect," a Library in Rural Idlib for Women and Children
if you think the article contain wrong information or you have additional details Send Correction