Daraa: General Intelligence Directorate Replies To The Demands of Detainees' Relatives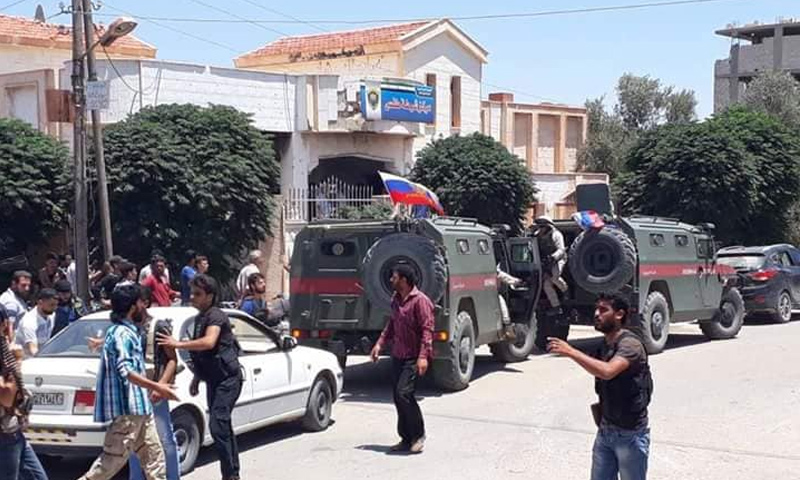 Mohammad Muhalla, Head of the General Intelligence Directorate under the Syrian regime, held a meeting with people and community leaders of the town of Tafas, Daraa governorate in Southern Syria.
The meeting, conducted on Sunday, February 24, was attended by several officers, including the director of the Military Security Branch in Daraa Luwai al-Ali, renowned figures people from the town, Enab Baladi's correspondent for Daraa reported.
The correspondent said that the majority of the people's demands centralized on the release of the detainees and ending the arbitrary arrests of young men and women in the governorate. They also addressed the cuts imposed on the salaries of governorate's dismissed employees and the retirees' pensions.
According to the reporter, al-Muhalla's speech was about the "conspiracy against Syria and the Syrian people," while he called all the people to stay under what he referred to as "the rooftop of homeland."
Al-Muhalla said that he brought the people a "gift," 28 detainees held at the Daraa Military Security Branch's headquarters, who he will "be releasing on the spot," promising to do his best to personally meet all the people's demands, while he will be redirecting those he fails to realize to the Syrian regime's President Bashar al-Assad.
The people also demanded the rehiring of the dismissed employees, including 8,000 employees of the Provincial Education Directorate, for none of them returned to his/her post despite the promises and the fact that most of the employees have obtained all the documents required from them to be rehired.
The people also addressed the issue of the members who have been disbarred from their syndicates for expressing political anti-Syrian regime opinions; the syndicates include those of medicine, engineering and law, where people were denied membership, stipulating that they get the approval of the National Security to return again.
Last July, Assad's forces and their Russian allies managed to take over the tow governorate of Daraa and Qunietra under a settlement deal, after days of shelling and military reinforcements, given the Russian guarantees offered to people and opposition factions.
Th governorate's people have repeatedly sought the Russian forces, which keep making them promises to no avail.
On February 19, the spokesperson of the Russian Reconciliation Center, Colonel Igor Fedorov, said that the people of Daraa are resorting to Russians to solve many of their affairs, which they cannot address themselves, including knowing the whereabouts of their relatives and problems relating to residency, housing and real-estate, according to TASS Russian News Agency.
The official explained that 500 applications have been filed to the Russian Reconciliation Center/Daraa Branch, concerning the distribution and housing of Syrian refugees, as well as demanding news about their relatives' fate or solving some of their pending issues.
To No Avail, Daraa's People File Their Complaints to Russians
if you think the article contain wrong information or you have additional details Send Correction