"Creative Fingers": Exhibition for Art Done by Women in Amuda City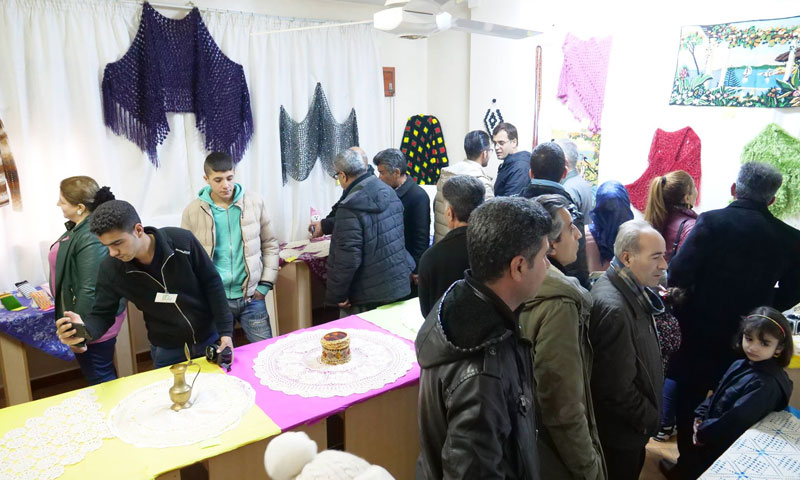 Giving it the title "Creative Fingers", the Amuda Center for Youth Activities, under the Together for Amuda Gathering, organized an exhibition of women art at the Center's hall in the city.
The two-day-exhibition showcased handmade products of the Kurdish heritage and that of the area, created by artist Fatima Barakat, a selection done over two years.
The exhibition's opening was attended by representatives of the cultural entities and the civil society in Amuda, people passionate about art and handmade crafts, in addition to several of the city's women.
Sherine Kajo, director of the Amuda Center under the Together for Amuda Gathering, spoke to Enab Baladi about the importance of the event and what it did include.
She pointed out that the exhibition presented purses, bags, wool scarfs, kitchen related pieces, table clothes and decorations for the walls, which have all been made by the artist Fatima Barakat.
Kajo said that the exhibition witnessed a massive presence on the part of visitors and a great demand on the items presented, a few which were sold.
The exhibition, according to Kajo, aims to empower women at an economic level in a manner that enables them to work at home and contribute to covering the household expenditures.
It also plays a role in the revival of the women artistic trends, introduces the Kurdish arts and calls for the preservation of ancient handmade products.
In addition to the craft she masters, Barakat teaches her art to girls, as she is trying to protect this type of art and encourage it while women are extensively choosing to work outside the house.
Manual crafts help women work at home, utilize their time and practice their hobbies, in addition to making money; they also bestow women with a sense of happiness and achievement, while they play a key role in preserving this art from extinction.
if you think the article contain wrong information or you have additional details Send Correction