Spread of Cesarean Section in Idlib: Choice for Some Women and Imposition for Others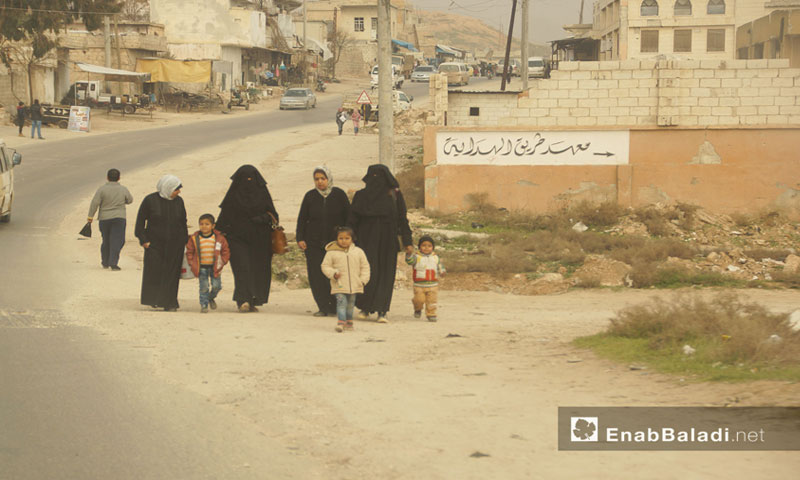 Idlib – Shadia Taataa
Cesarean section has become the preferred, or sole, method of birth for pregnant women in the governorate of Idlib. This is after decades when natural birth was prevalent and surgical procedures were avoided, while Cesarean births were limited to women suffering health problems.
During recent years, Cesarean sections have broadly proliferated in Idlib, and have become a choice for many women who opt for surgery during birth in order to avoid labor pains, or for other reasons relating to the security conditions in the conflict.
This has caused additional burdens for families, due to the high cost of Cesarean sections, and especially that most pregnant women prefer to give birth in private hospitals rather than NGO health centers in the area.
One lady, who preferred not to be named, said to Enab Baladi, "I underwent three Cesarean sections, the first when I was 18 years old and cost as little as $50, but the second and third had a higher cost reaching $100."
The 28-year-old woman indicated that such costs are not easy to secure, especially in current conditions.
As for the reason of her Cesarean births, the woman said her health conditions did not assist her in giving natural birth to her firstborn, as she suffered from high blood pressure during pregnancy. Similarly, she was forced to undergo a similar operation in her later births.
Restricting or convincing doctors?
Umayya, a gynecologist and obstetrician in Kafranbel in rural Idlib, explained to Enab Baladi the many reasons a doctor may seek to conduct a Cesarean section, among them being pelvic size, or concluding the ninth month of pregnancy without being able to deliver naturally. Other reasons include prior experience with Cesarean delivery, or the total detachment of the placenta from the unborn child.
She explained, "This is when Cesarean section becomes the solution, to avert danger to the life of the woman or her baby," as well as many other health complications.
Dr. Umayya also spoke about "unusual" reasons, such as a woman opting for Cesarean delivery despite not suffering from health problems that would necessitate such a procedure.
She added that some women prefer the operation, especially those giving birth for the first time who may have an exaggerated preconception of labor pains. Other reasons include security concerns that perturb women from giving birth at night, which is difficult in Idlib in light of the many checkpoints, nightly airstrikes, of the difficulty of reaching hospitals.
The physician also spoke of other reasons which she considered to be "erroneous" behaviors by some doctors in Idlib, not only mistakes on the part of the pregnant women. Some doctors have, in recent months, resorted to Cesarean sections as being an "easier" and "more profitable" method than natural birth, which requires time patience from the doctor, according to Umayya.
Increased to 50%
Doctor Zuhair Qarrat, the chief physician at the Obstetrics Hospital in the town of Shnan in rural Idlib, said that "unfortunately, Cesarean deliveries have substantially increased due to doctors opting for them for their financial revenue."
Speaking to Enab Baladi, Dr. Qarrat said that the rate of Cesarean births in Idlib have reached 50%, some by women who prefer the procedure to avoid labor pains, while others are due to doctors' impatience with the pregnant woman, especially during her first birth.
A woman named Reem, who opted for surgery than natural birth during her first pregnancy, told Enab Baladi that she was the one to choose the Cesarean section due to her fear of labor pains.
The 32-year-old added that "my intention from the beginning was the undergo a Cesarean section, but as I gave birth I experienced acute pain that made me lose consciousness, and the supervising doctor had to conduct a Cesarean section. I chose it, but was also forced to do it."
Reem currently has four children who have all been delivered through C-sections, due to the mother's belief that it is better than natural birth, according to her.
Dr. Umayya spoke of the dangers of surgical operations for pregnant women who do not have health issues forcing them to undergo such procedures. Such risks include the possibility of medical or organic errors.
In this context, the physician noted that there are possible complications, such as the anesthesiological or surgical errors, which can result in bleeding, uterine atony and limiting births. A woman cannot undergo a C-section more than 5 times, as that could "endanger her life," according to Dr. Umayya.
Despite the prevalence of Cesarean births in Idlib, a large number of doctors still prefer natural births because they are healthiest for the woman. Awareness is also being increased of the necessity of giving natural birth unless a Cesarean section is necessary.
if you think the article contain wrong information or you have additional details Send Correction