Spread of cesarean deliveries in Idlib: A choice for some women and obligation for others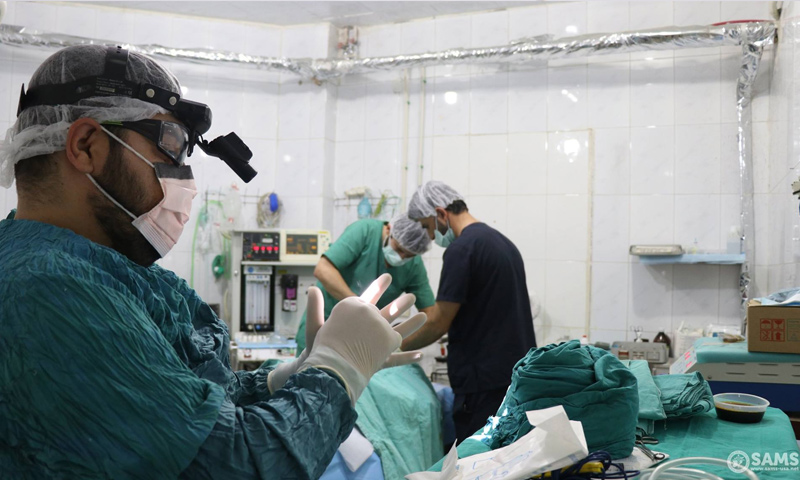 Caesarean deliveries have become the preferred, and sometimes the only, option for pregnant women in Idlib Province, after decades during which the conviction of normal deliveries and avoidance of surgeries prevailed while caesarean deliveries have been limited to only women with health problems.
In recent years, Caesarean deliveries have been significantly spread in Idlib. What is more noticeable is that this kind of delivery has become an option rather than an obligation for many women who preferred surgery during childbirth to avoid labor pains or for other reasons related to the security conditions imposed by the war.
This has caused additional burdens on families due to the high cost of cesarean delivery, especially since the majority of pregnant women prefer private hospitals rather than those of charitable organizations in the region.
One of the women, who asked not to be named, told Enab Baladi: "I had three caesarean sections, the first one was when I was 18 and it cost only $ 50, while the second and the third surgeries cost a higher price reaching $ 100."
The 28-year-old woman pointed out that it is not easy to provide this amount of money, especially in light of the current situation.
As for the reason for undergoing the Caesarean section, the woman said that her health condition did not help her deliver her first baby in a natural way as she had high blood pressure during pregnancy, and she was therefore forced to undergo Caesarean section in subsequent deliveries.
Reasons behind the Caesarean: Constraint or relief for doctors?
Dr. Umayya, a gynecologist and obstetrician in the city of Kafr Nabl in the countryside of Idlib, explained to Enab Baladi the reasons why a doctor may resort to a caesarean section, including the narrowness of pelvis, the woman's finishing of her ninth months of pregnancy and her inability to give birth in a natural way, the woman's undergoing of a caesarian section before, or the full placental separation of the child.
The Doctor explained: "In these cases, the caesarian section becomes the remedy to avoid endangering the lives of the mother or her baby," as well as a long list of other health problems.
The doctor however talked about "unordinary" causes, especially the pregnant woman's choice of undergoing a cesarean section although she does not suffer from health problems, and does not need to do so.
Dr. Umayya added that some women prefer cesarean section, especially the first-time pregnant woman who gets afraid of the pain of labor, as well as other security concerns of other women who get anxious from a nighttime delivery, which the conditions in Idlib makes it impossible because of the spread of barriers and sometimes bombings, as well as the difficulty to reach hospitals.
The doctor also talked about other reasons behind the "wrong" behavior of some doctors in Idlib, and not only pregnant women. In recent months, doctors have resorted to caesarean sections because they are "easier" and "more profitable" than normal delivery that requires great patience from the doctor," as she put it.
50 per cent increase
Dr. Zuhair Qarat, director of the obstetrics hospital in the town of Shinan, Idlib countryside, said: "Unfortunately, the phenomenon of caesarean sections has increased significantly because of the doctors' predilection to conduct these profitable procedures."
In an interview with Enab Baladi, Dr. Qarat added that caesarean deliveries in Idlib have reached 50 percent of the total number of births, some of which were the choice of women who are afraid of labor pains. However, in many other cases these operations are executed due to the doctor's lack of patience, especially during the mother's first birth.
Reem, a young woman who preferred surgery to natural delivery at her first birth, told Enab Baladi that she chose caesarean delivery for fear of labor pains.
Reem, 32, stated: "I had the intention from the very beginning to undergo a caesarean section, but at the time of my delivery I suffered from severe pain and I lost conscious. At this point the supervising doctor has resorted to a caesarean section."
Now, Reem has four children, all cesarean-born babies, given their mother's conviction that caesarean delivery is better than the natural one.
Dr. Umayya talked about the risks of surgical operations on pregnant women who do not suffer from health problems that require a surgical intervention. These risks are summarized in the possibility of medical or organic errors that may endanger the mother's life.
In this context, Dr. Umayya noted the presence of possible dangers resulting from such a type of surgeries, including of anesthesia side effects or surgical complications, such as hemorrhage, as well as uterine and birth defects.  Also, a woman cannot undergo caesarean sections more than five times, because it "poses a threat to her life".
Despite the frequency of caesarean deliveries in Idlib, a large proportion of physicians still prefer that their patients undergo natural deliveries as a safer option for women's health. Moreover, more women are developing a sense of awareness about the importance of natural birth in case they are not required to have caesarean sections.
if you think the article contain wrong information or you have additional details Send Correction