Raqqa's Children Receive Their Education in Windowless and Doorless Schools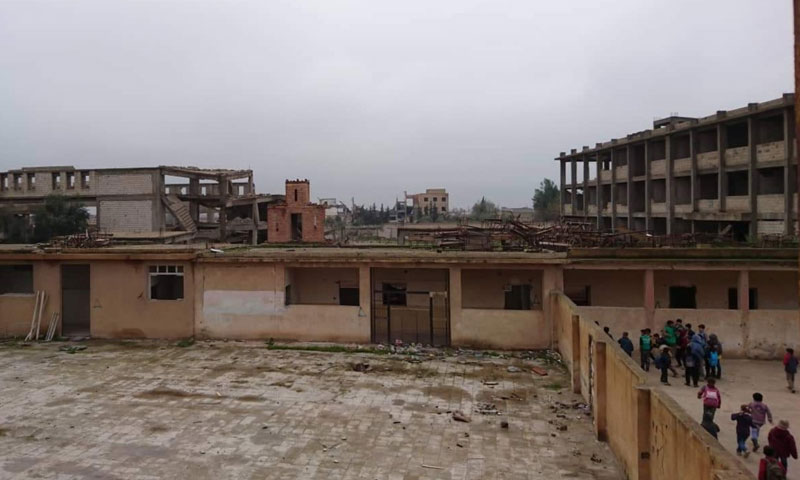 Two months into the new school year and after returning to their schools, deprived of for many years, the students in the Syrian city of Raqqa became used to winter's cold.
More than a year after the withdrawal of the "Islamic State" (ISIS) from the city or Raqqa in 2017, many schools still appear as if stuck in a battle filed of an endless battle, due to the destruction and the damage that befell them, while surrounded by sabotaged buildings.
During the first semester's exams, footage was posted onto the internet of children in the Ammar ibn Yasir School, located in Hisham ibn Abd al-Malik neighborhood, south-eastern Raqqa city.
The footage, which Mohammad Othman, a citizen journalist, taken and posted onto his "Facebook" page on December 24, show the school's students in a class room, which has neither doors nor windows.
Othman told Enab Baladi that an organization called "Future Makers," operating in Raqqa, has, in cooperation with the Raqqa Civil Council, fixed windows of "fiberglass," plastic-like material, two days after the photos were posted.
H explained that Ammar ibn Yasser school is one of several schools that have not been renovated or rehabilitated to properly accommodate students, including the al-Ameen and al-Farouq schools, in the poorer neighborhoods at the city's outskirts, pointing out that the clothes the children wear are the only means they have to keep their small bodies warm.
In a former interview, late in December, Mustafa al-Abed, member of the Raqqa Local Council, told Enab Baladi that the renovation of schools is slow because the schools' affair is addressed by international organizations, pointing that the renovation process did not cover partially destroyed schools.
On September 30, 2018, a UN team said that the UN's program is seeking to renovate seven schools in the city of Raqqa, Northern Syria, in addition to five schools in Aleppo governorate and other six in al-Hasaka, north-eastern Syria.
The Education Committee of the Raqqa Civil Council, administratively affiliated to the Kurdish "Self-Management," runs the educational process and provides the salaries of the teachers, working in schools it supervises.
About 45 thousand students enrolled in schools in Raqqa governorate, according to the Education Committee.
if you think the article contain wrong information or you have additional details Send Correction