"İHH" Opens a Charitable Pharmacy in Rural Aleppo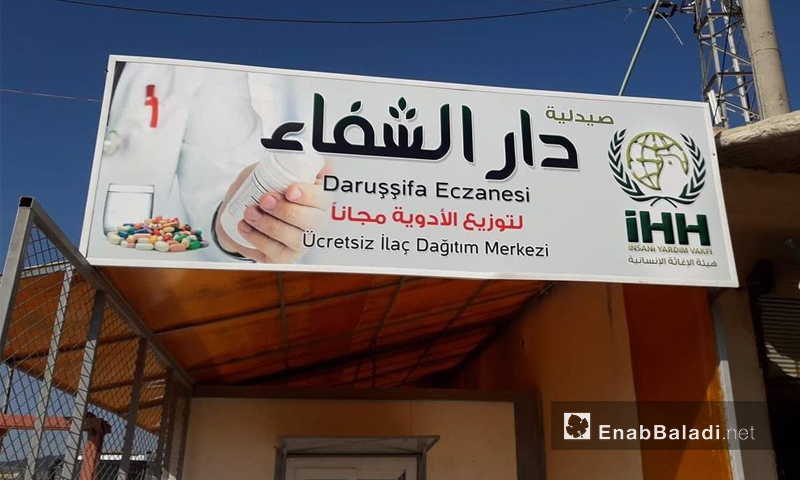 The Humanitarian Relief Foundation (İHH) opened a charitable pharmacy in Northern rural Aleppo, which is the first of its kind in Northern Syria.
The pharmacy, called "Dar al-Shifaa," dispenses prescriptions for the camps' people for free and a suitable location was chosen for it as to ensure the most benefit for the internally displaced people.
"The pharmacy offers free of charge medical services, and the objective of establishing it is alleviating the burden of the patients, particularly those in the areas of displacement," Haytham Jaber, the director of the Medical Department of "İHH" told Enab Baladi.
Jaber added that the pharmacy is located near the Sajo roundabout, northern Azaz city, an area where several of the camps, on borders with Turkey, are located.
Rural Aleppo received thousands of people, displaced from different areas in Syria, the last of which were eastern Ghouta, eastern Qalamoun, southern Damascus and northern rural Homs.
The majority of the camps in northern rural Aleppo consist of readymade "caravans" and canvas tents, housing escapees and displaced people.
The pharmacy is the first of its kind in Northern Syria, held by the opposition, and it is expected to have great benefits for the people living in the camps particularly.
The step came in sync with several Turkish projects in Northern Syria that cover many dimensions, including the medical sector.
The medicines are to be dispensed according to prescriptions issued by hospitals in northern Aleppo, when the prescribed medications are not available in hospitals, Jaber said.
He explained that the pharmacy is open from 9 a.m. to 5 p.m.
Of the medicines that the pharmacy provides are ones prescribed for chronicle diseases, including diabetes drugs of all caliber, blood pressure and other medications lacking in the hospitals of northern and astern rural Aleppo.
All the medications that the pharmacy offers are made in Turkey, and according to Jaber the leaflets are all translated into English, and pharmacists will be responsible for tracking the suitable medications and giving them to patients.
In the past a few years, the Turkish "İHH" has contributed to dozens of projects both service and relief related in Northern Syria, especially in Idlib governorate, the cities and towns of northern rural Aleppo.
Turkey, in the past a few months, focused on organizing the medical sector in northern rural Aleppo and offering the area's people medical services through the foundation of hospitals and conducting training courses for young people, equipping them with the skills needed for the medical field.
if you think the article contain wrong information or you have additional details Send Correction