Haiian Town's Children "Excited" to Go Back to School, which Shelling Destroyed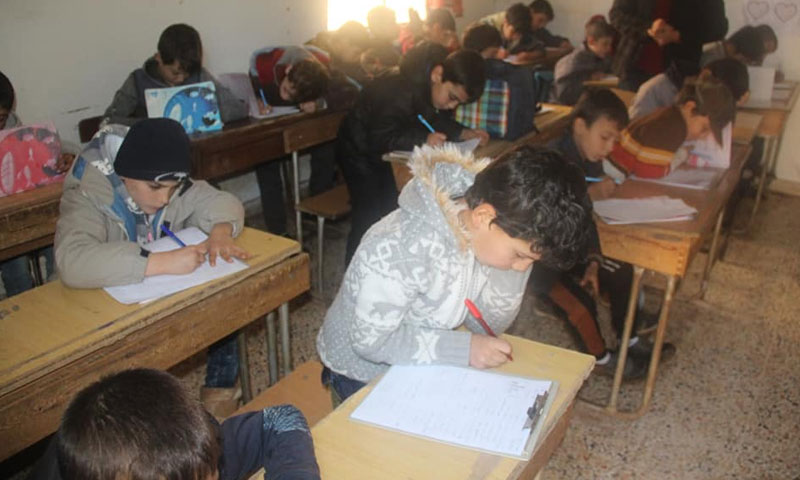 About 300 students of Haiian town's children (10 kilometers to north of Aleppo) are preparing to get back to Kamel Atro elementary school, rendered out of service in February 2016.
On December 18, the Syrian Civil Defense (White Helmets) informed Enab Baladi that 300 students from Haiian town out of 1500 estimated students in both elementary and preparatory school can return to receive their education at the Kamel Atro school.
The Syrian Civil Defense Organization started rehabilitating the school in the second half of 2018 and removing the rubble caused by a former shelling that targeted its building.
In February 2016, the shelling by the Syrian regime's air force caused the destruction of 50% of the school, and back then the bombardment led to the death of 10 students.
As a result of the destruction of the school, children were forced to be taught at rooms in homes, which the town's people provided after the area's schools, six in number, were affected, Obaida al-Hayani, a teacher at the Haiian School, told Enab Baladi.
The children and the students are both affected by home schooling, according to teacher Obaida, for the method has negatively affected the students' ability at comprehension since the allocated space is not equipped for education.
Huthaifa, a five-grade student from Haiian town, waits for the mid-term holiday to end so he would pursue his education at the school building he has been missing for three years.
"Now, we are on the mid-term vacation. I am excited about going back to school. […] There, we can understand the teacher better, and we are not scared of going out and playing in the school yard," Huthaifa said.
The teachers and students alike fear the "break time," the interval between the classes, which children usually spend on the streets, for it might cause a lot of harm because a specific place was not designated for the children's break time.
Haiian town's students finished their mid-term exams for the school year of 2018-2019 in homes that became their schools.
if you think the article contain wrong information or you have additional details Send Correction