Football Match Features Working Children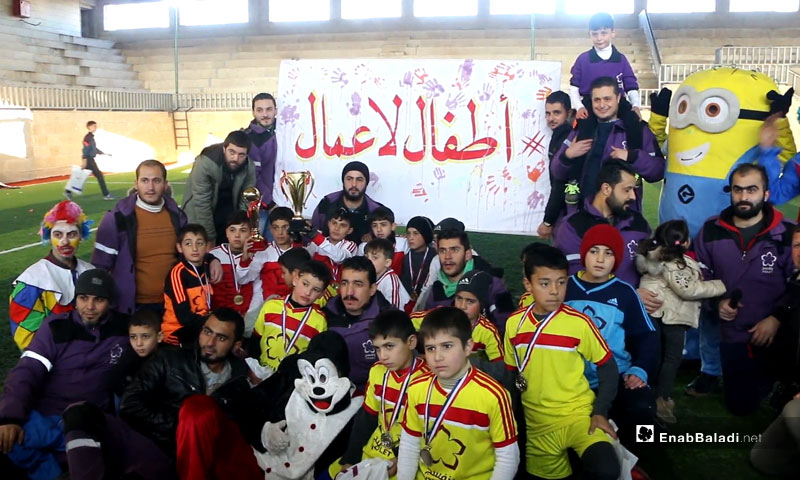 Muneer, for a few hours, left his job as a delivery boy, working for one of Idlib city's restaurants, to participate in a football match, organized to remind society of child labor, which was and is yet the major threat facing childhood in Syria during the years of war.
"I currently do not study, but I work to help my family," Muneer, a 10-year-old child, said.
He is one of the children who participated in the "I Have the Right to Play" event, organized by "Violet" organization in the Sports Hall, Idlib city, on Friday, January 18, 2019.
"I should return to school and focus on my education," Muneer added.
The event is organized under the "Children Not Workers" project that "Violet" Organization launched in Northern Syria, which aims at raising the Syrian society's awareness concerning the risks of children dropping out school to indulge in the labor market for urgent reasons, on top of which is making a living for their families.
The event centralized on a football match, with the participation of four teams, two from the city of Idlib and two others from Maarrat al-Nu'man and Armanaz.
The teams included school dropouts, who work in different fields that provide them with none of their young age's demands or necessities.
In the first place, the event seeks to raise the society's awareness of the risks posed by child labor and its effect on their future, and then enhancing the children's awareness of the necessity to pursue their education, for "child labor stands out as the riskiest dangers that a child is exposed to," according to what Ibrahim Selmiyeh, the coordinator of the Protection Team of "Violet" organization, told Enab Baladi.
He added that the event ended with honoring the teams that ranked first and second, while the top scorer and the best goalkeeper were offered prizes.
International human rights organizations still classify Syria as unsafe to children, for in a report issued in April 2018, the "Save the Children" organization reported that Syria ranked the third among countries considered "the most hazardous to children."
The cause of Syrian children losing the right to education is still a matter of controversy at the level of the international community, for, in 2016, the world's leaders pledged to help Syrian children continue their education and protect them from labor and early marriage.
However, statistics show a lack of commitment, with two million school dropouts inside and outside Syria, who headed to the market place to help their families.
Official numbers about the Syrian working children inside or outside Syria lack, but Alaa Teenawi, the Investigation Judge in Damascus, specialized in juvenile cases, said that the child labor ratio in Syria increased to 38%.
In an interview on the local Melody FM radio, broadcasted in 2017, Teenawi pointed out that child labor ratios among children whose age ranges from 10 to 17 reached 18% in 2012.
if you think the article contain wrong information or you have additional details Send Correction