Ariha: A Clinic for the Early Detection of Chronic Diseases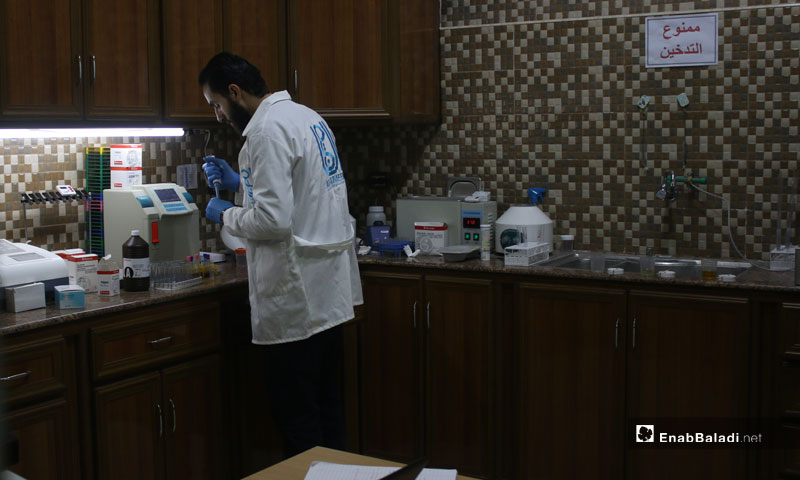 The medical clinics in Idlib continue their marked progress through opening new departments and centers despite the European funding cuts that befall the healthcare directorates in the area.
The Medical Al-Ameen Center in the Ariha city, southern Idlib, supplemented its clinics with a new one, specialized in detecting chronic diseases. It is considered the first in the area and the ninth in Northern Syria.
The new clinic is launched with the support of the Al-Ameen for Humanitarian Support tow months ago. Today, the clinic is active along with the other departments despite European organization's decision of suspending their donations provided to the healthcare directorates in Northern Syria.
The new and the only clinic, of its type, in Ariha city is specialized in the early detection of corniche diseases, such as diabetes, blood pressure diseases, cardiac and respiratory disorders, said Dr. Alaa al-Khatib, the director of the center.
In an interview with Enab Baladi, al-Khatib said: "The new clinic aims to offer checkups to patients of diabetes, blood pressure and cardiac diseases, as well as asthma, in addition to offering early detection services to patients who suffer from chronic diseases and who have high-risk levels."
About 40 patients visit the new clinic every day, the doctor in charge estimated.
The center consists of several specialized clinics, internal, cardiac, neurological and ophthalmic diseases, in addition to the urologic surgery and dialysis departments.
Some of the patients, who resort to dermal, dental and other clinics, can now have early detection of chronic diseases that might endanger their lives.
Mahmoud al-Said, a patient at the dental clinic, told Enab Baladi that he received treatment from the center's dental and ophthalmic clinics, and upon undergoing the needed checkups, he was reassured that his body did not suffer any chronic diseases.
On January 16, 2019, European organizations suspended their donations to humanitarian projects in Northern Syria, after the expansion of the "Hay'at Tahrir al-Sham" (HTS) control area at the disadvantage of the factions of the "Free Army."
According to the last census that the "Response Coordination Team" published on December 26, 2018, there are three million and 800 thousand civilians in the governorate of Idlib, in addition to 753 thousand others in various areas in Aleppo and 149 thousand 482 civilians in rural Hama, controlled by the opposition.
if you think the article contain wrong information or you have additional details Send Correction