"Al-Julani" Calls for a Unified Military Council in Idlib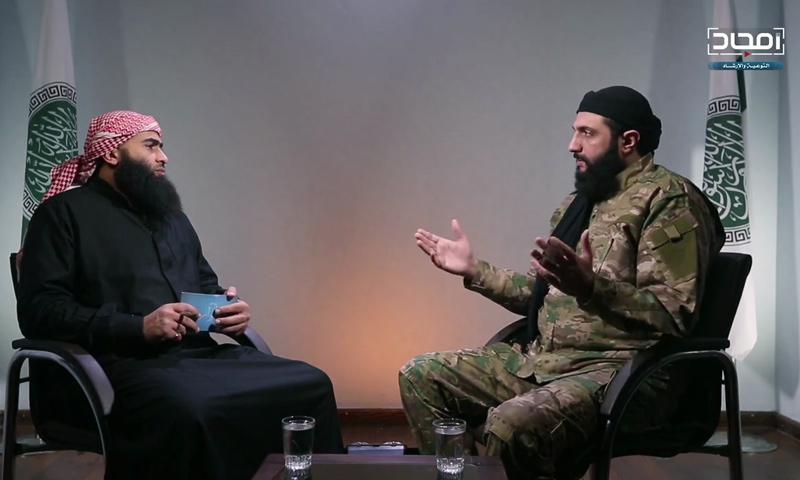 The Commander-in-Chief of "Tahrir al-Sham," Abu Mohammad al-Julani, called for the foundation of a unified military body in Idlib governorate, one to join all the factions and military formations.
"In the meantime, the key step to seek is that the factions' mission be military only, away from the management of the city," al-Julani said, appearing on the Awareness and Guidance program, posted by Amjad Media agency today, Monday (January 14).
He added: "We should assembly under a military council or military entity, through which we can defend the liberated [areas]."
In the past days, "Tahrir al-Sham" launched a military operation, via which it managed to seize most of the areas in Idlib governorate and western rural Aleppo.
The operation forced "Harakat Ahrar al-Sham al-Islamiyya" to dissolve itself and drove the "Nour al-Din al-Zenki Movement" out of its areas in Afrin.
"Al-Julani's" interview corresponds to the talks addressing Idlib governorate's fate in the upcoming days and the arrival of Turkish military reinforcements in Hatay province, adjacent to Idlib in the north.
In the interview which Enab Baladi monitored, al-Julani said: "The residents of the liberated areas will be able to observe that if the factions are to be distanced from the civic administration, they will play a major role in the upcoming days."
"We are seeking to involve everyone in the administration, which is to be run by high-level academicians, from various fields including medicine and others," he said.
The remarkable thing about the confrontations, launched by "Tahrir al-Sham" against the factions, is the "Salvation government's," accused of affiliation to "Tahrir al-Sham," immediate entrance to the recently controlled areas.
In a former interview with Bassam Suhyoni, head of the founding committee under which the "Salvation Government" was established, he said: "There is a plan for managing the liberated areas, designed previously as to allow all the areas a chance to be part of the founding committee, functioning like a parliament."
"We are moving in several directions, the most prominent of which is the parliament and organizing it as to allow the participation of all those present on the ground from the different governorates. […] This marks the beginning of a new management," he told Enab Baladi.
"There is a mechanism and intensive meetings for the ministries to discuss these issues. On a practical level, the belongings and contents of the new places that recently became a part of the government have been regulated and undergone an inventory process," according to Suhyoni.
Suhyoni's comment, of the already designed plan aiming at running the "Liberated areas," leads us to contemplate the procedures undertaken by "Tahrir al-Sham" previously, as to reach the current step, which is monopoly over Idlib governorate as to impose a new status quo, the main objective of which is paving a way to be present at the Russian-Turkish negotiations.
if you think the article contain wrong information or you have additional details Send Correction