Turkish Red Crescent Opens Sewing Workshop in Khan Shaykhun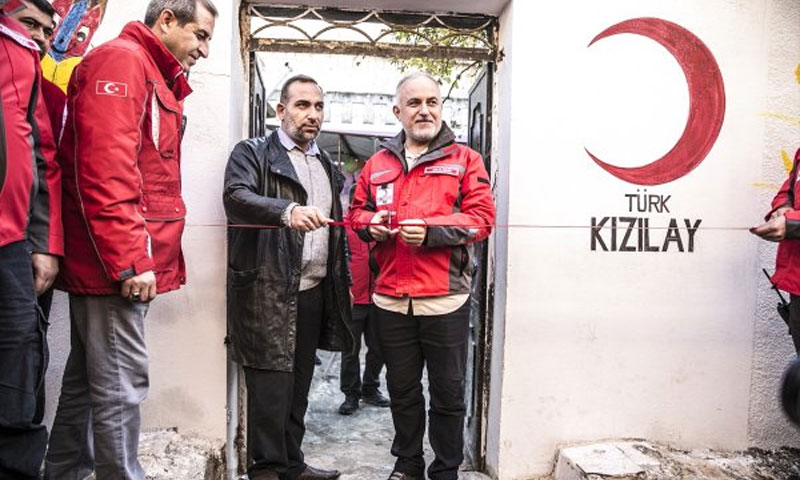 Fatima, one of the women participating in the sewing workshop recently opened in the city of Khan Shaykhun, southern Idlib, hopes to improve her standard of living by learning this profession.
The Turkish Red Crescent opened the workshop early in December, offering many women an opportunity to better their financial status through learning this profession.
Fatima said that she aims to learn sewing to work as a tailor, which will help her and her children achieve a stable income.
Quoted by the Red Crescent's official website, Kerem Kinik, the president of the Turkish Red Crescent, said: "This workshop aims to teach [sewing] to Syrian women and help them make clothes, which we will buy and distribute to poorer people in the Syrian refugee camps located on the Turkish border."
The organization will provide the women participants with raw materials: textile and tools. About the workshop, Kinik said: "It will be a preliminary step to help Syrian women start their own projects later on."
So far, there are 12 women trainees, Abdulhamid Sarmini, director of the Khan Shaykhun City Local Council, told Enab Baladi.
Sarmini explained that the women at the workshop are trained for about eight hours, pointing out to the economic status of families in the town, in particular the divorcees and widows left without a breadwinner.
The Turkish Red Crescent has also contributed to founding the "Al-Ithar Kindergarten" (Altruism Kindergarten), to combat the effects of the chemical attack that targeted Khan Shaykhun, which deprived many of the area's children of education, Sarmini said.
if you think the article contain wrong information or you have additional details Send Correction