The UAE Announces Opening Its Embassy in Damascus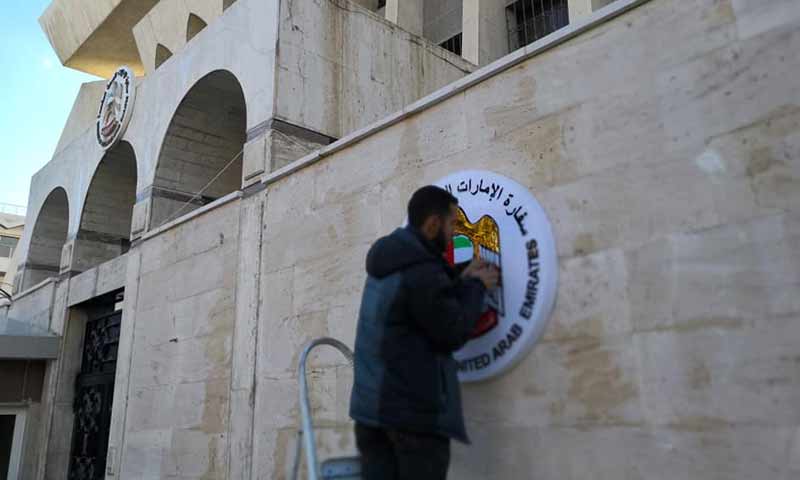 The United Arab Emirates has officially announced the opening of its embassy in the Syrian capital Damascus.
The UAE Ministry of Foreign Affairs, according to Emirates News Agency (WAM) today, Thursday, December 27, has stated that the UAE embassy in Damascus is back in action.
Reuters has also quoted the Ministry of Information of the government of the Syrian regime as saying that the embassy will be opened today in the afternoon, without mentioning further details about the personalities, from both sides, that will attend the opening ceremony.
CNN Arabic quoted a UAE official as saying that the reopening of the embassy is to take place at two, at Damascus' local time, pointing out that UAE has not assigned an ambassador to Damascus yet.
In the past a few weeks, there were talks about the reopening of the UAE embassy in Damascus, and footage spread on social media of workers doing maintenance activities at the embassy's building, located in Abu Rummaneh, Damascus.
The Gulf states, including the UAE, suspended their relationship with the Syrian regime at the beginning of the revolution in 2011, at a diplomatic level, closing their embassies, for using violence against peaceful demonstrators.
UAE closed its embassy in 2012, in sync with similar procedures followed by other Arab and western countries due to a non-binding resolution from the League of the Arab States of delegitimizing Bashar al-Assad's regime.
However, the UAE kept a consular department active at the Syrian Embassy in Abu Dhabi to provide services to the Syrian community in the UAE.
The reopening of the embassy comes under Arab calls at bringing the relationship with the Syrian regime back and returning Syria to the League of the Arab States.
The UAE is the first Arab state to announce the reopening of its embassy in Syria, while the Sudanese President Omar al-Bashir was the first Arab president to visit Syria, last week.
if you think the article contain wrong information or you have additional details Send Correction