The Rehabilitation of 200 Houses in Rural Afrin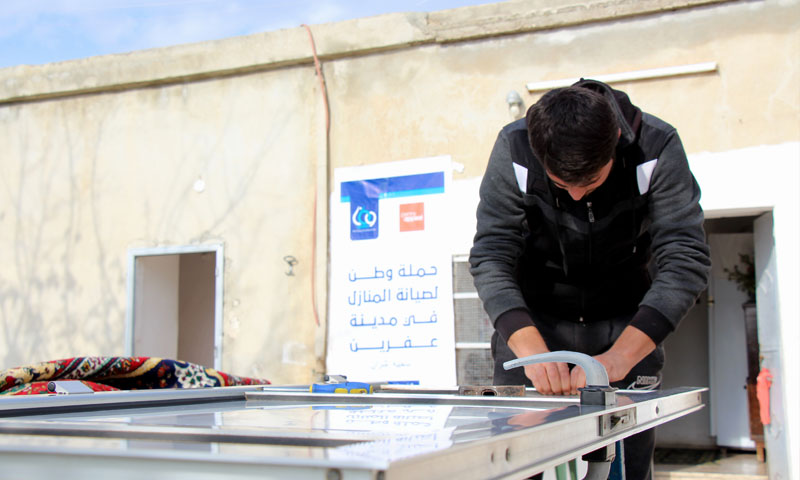 In some of the villages, spreading around Afrin city, northern Aleppo, engineers and activists renovated dozens of houses after the partial damage that befell them due to the battles.
A team of engineers made an observation trip to check on houses in targeted areas in Khirbat Shiran, Jaman, Qatmeh, Ftireh, Kafr Janneh, counting 200 houses, which it is started to renovate to help these villages' people who cannot afford the rehabilitation process.
The project, offered by "WATAN" Foundation, in cooperation with the local council, estimated the damage of each of the houses enlisted by the observation team, after which the organization signed contracts with the houses' owners to renovate them and give them financial compensation of the renovation costs.
"The renovation of houses covered things such as walls, doors, windows and others, and despite the simple resources, the project offered the population a massive benefit in the shadow of the poverty spreading in the area," Abdulrahman Hassan, director of the Shiran District's local council, told Enab Baladi.
Hassan added: "The project's importance arises in winter particularly, for the houses' renovation is done to keep away cold, rain and other things."
The Foundation stated that the project aims to renovate a number of houses in rural Afrin as to better housing standards and alleviate the suffering of some of the people in areas controlled by the opposition.
The project started with an understanding memorandum signed with the local council in Shiran district, and it is the council that provided the Foundation with the names of affected people and the houses in need for renovation, engineer Hamza Zain, the project's official at "WATAN" Foundation explained.
Dozens of the houses, in the area surrounding Afrin, are still partially or completely damaged, and they need massive efforts to be renovated and reconstructed. The Council hopes to initiate larger projects that have the ability to renovate them.
In March 18, 2018, the Turkey-backed "Free Army" factions controlled the city of Afrin, after they advanced deep to its center and progressed at the advantage of the Kurdish "People's Protection Units."
Shiran district contains 44 administrative divisions of residential complexes, the center of which is the town of Shiran. In the east, it is bordered with the city of Azaz, and the center of Afrin from the south, the tow districts of Maabatli and Bulbul from the west, and the Turkish borders from the north.
It spreads over a space of 331.35 square kilometers, and it is 13 kilometers away from Afrin towards the eastern-north.
if you think the article contain wrong information or you have additional details Send Correction