"SDF" About to Declare Complete Control Over Hajin Enclave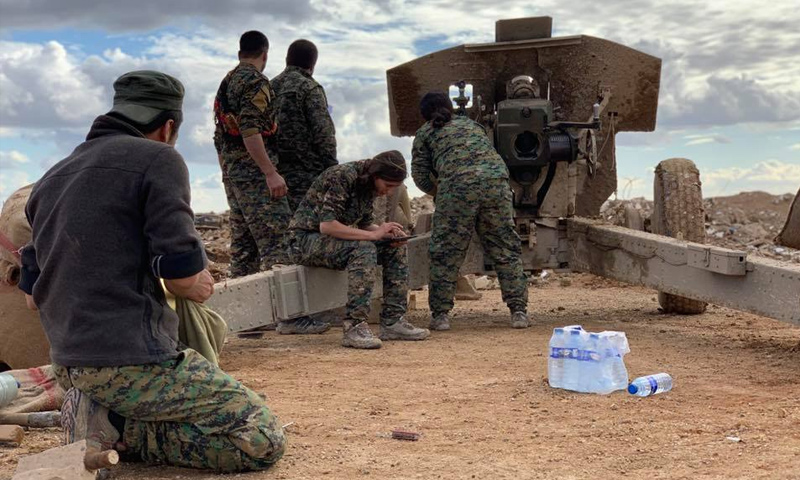 The "Syrian Democratic Forces" (SDF) sated that it will "soon" announce complete control over the Hajin enclave, the last of the "Islamic State's" strongholds.
"Soon, the glad tidings will be brought about the total liberation of Hajin enclave and the termination of Daesh's influence in Northern Syria, reaching the Syrian-Iraqi borders," Lilwa Al-Abdullah, "Jazeera Storm" spokes, told Enab Baladi toady, Friday (December 14) using the Arabic acronym, Daesh, for the Islamic State.
Al-Abdullah said that the military operations in Hajin are yet ongoing, for "some spots are still out of our control in the area."
"The battles have reached their peak, and we are advancing through violent confrontations."
The announcement of the developments of the battle targeting "IS'" last strongholds in the east of the Euphrates, were restricted to "SDF," for "IS" has closed its official news platforms on "Telegram," including Nasher and Amaaq.
"SDF's" military progress in the east of the Euphrates is achieved at two fronts; the first is adjacent to the Syrian-Iraqi borders, and the second is at the northern direction of Hajin city, the "IS'" key post in east of the Euphrates.
The progress of the Kurdish forces, at the expense of "IS," corresponds to an intense artillery and missile shelling by the U.S.-led coalition and the foreign forces on the ground.
On its official website, the Kurdish forces reported exploding five of "IS'" car bombs at Hajin's center today.
The last posts that "SDF" has announced controlling were the Hajin Hospital and the "Nabed al-Hayat" hospital, (the Pulse of Life), in the area of al-Shaafah, rural Deir ez-Zor.
In the past a few days, the Kurdish forces brought military reinforcements in, preparing to launch a large-scale ground attack against "IS" posts in eastern rural Deir ez-Zor.
Of the forces participating in the battles are the "Deir ez-Zor Military Council," the "General Security Apparatus," in the city of Raqqa, the "People's Protection Units," the "Women Protection Units," the "Syriac Security Forces"  (Sootoro), and the "Self-Defense Forces."
"SDF" Commander Pledges to Combat Any Turkish Attack East of Euphrates
if you think the article contain wrong information or you have additional details Send Correction