Raqqa Rehabilitates Stadiums, Once Turned into Mass Graves and Detention Centers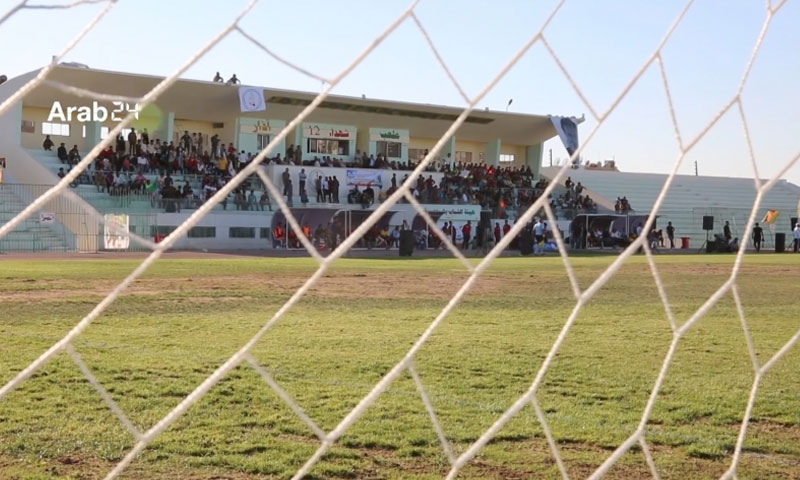 The city of Raqqa, north-eastern Syria, is preparing to reactivate its individual and group sport activities, while it is making efforts to rehabilitate a number of its sport facilities, which the "Islamic State" (ISIS) used as mass graves or detention centers.
This step is being taken a year after the "Syrian Democratic Forces" (SDF) kicked out "ISIS" in October 2017 from the area, it controlled for years.
The city assigned a Civil Council, affiliated with it, to run its affairs, calling it "Raqqa Civil Council," which for its part announced the foundation of the Sport and Youth Committee, as to reactivate all sport-related activities.
The Rehabilitation of Stadiums
Under the first steps, the Raqqa Stadium, the largest of the city's stadiums, was rehabilitated last October, for the Committee has renovated the major umbrella, the stands and other facilities, finishing 90% of the process so far, according to what Ahmad al-Shareef, a member of the Sport Committee of the Raqqa Civil Council, has told Enab Baladi.
The stadium was constructed in 2006 and hosted the matches of the al-Shabab Club (Youth), as a part the Syrian League. However, "ISIS" turned it into a detention center, during its control of the city, and it was called "Post 11."
This was proven by a video showing the inside of the stadium following "SDF's" control of the area, where the detainees' barracks and the investigation offices appear.
Last November, the Youth Committee also rehabilitated a volleyball Court, named al-Furat, Euphrates, after dismantling the landmines it contained and the al-Rashid Football Field, referred to as the "Grave Filed," where 553 dead bodies were discovered in a mass gave last April.
The local teams retrieved more than 2500 dead bodies from mass graves in Raqqa, since the departure of "ISIS" to October 2018, according to statistics issued by Amnesty International.
The al-Rashid Football Field's importance arises from its being located in the city center, according to al-Shareef, for the city's athletes demanded that it be rehabilitated as it is a ground for many popular teams, especially football teams.
In addition to this, Anwar al-Ahmad, an administrative figure of the Sport and Youth Committee, told the official website of the "Syrian Democratic Forces" (SDF) last July, that the stadiums in the area's countryside, such as the villages of Hazima, aL-Hukomia  and Tell Sumon are renovated, while efforts are being made to rehabilitate the Equestrian Club.
According to al-Shareef, the next step aims at the foundation of the Raqqa Sport Federation, which will supervise all the sport events there.
Twelve clubs have been formed, from Raqqa, al-Tabqah, Manbij, Tell Abyad and Ayn al-Arab, which all participated in the matches, organized under the "Euphrates League." However, the awards and the championship's system have not yet been decided, awaiting the foundation of the Sport Federation.
if you think the article contain wrong information or you have additional details Send Correction