"Preliminary" experiment of Shadow Theater on stage of Cultural Center in Idlib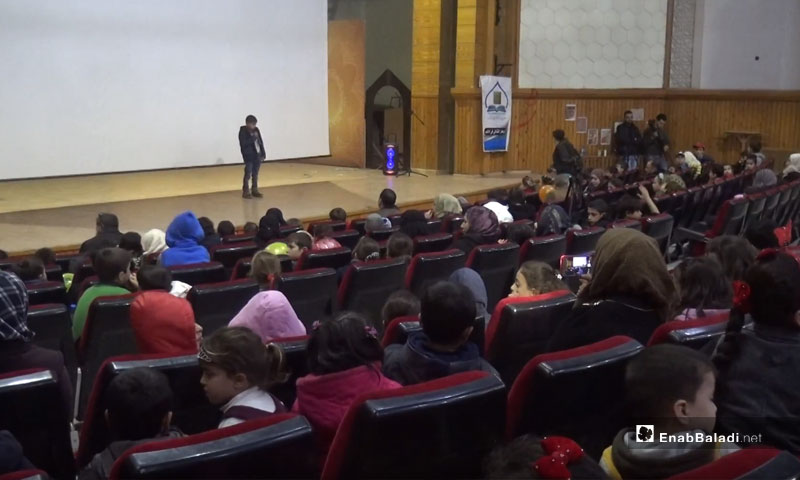 In the style of "Karakuz and Awad" the Cultural Center in the city of Idlib organized a play in the shadow style, under the title The Mind and the Monkey, and which was attended by the dozens of children from the city.
Despite its simplicity, the play, which was held on Thursday and Friday, December 6 and 7, is considered as one of the first experiments aimed at reviving the shadow theater, whose echoes and popularity have started to decline throughout the Syrian territories due to technology and modernity.
Diaa Asoud, writer and director of the play The Mind and the Monkey, considered that despite its simplicity and minimal tools, the play would be the first stage of the return of the shadow theater culture to northern Syria; this art for which  the capital Damascus has been famous for decades.
Asoud said in an interview with Enab Baladi that he is currently working on organizing shadow plays in Idlib, which would be more developed and successful than the previous one, using on the principle of projection and shadow reflections.
Children had interacted with The Mind and the Monkey play, as it depended on transmitting information and communicating the idea in a comic way. The play discussed the question ​​"Why God created the mind for mankind and not for animals."
The cultural center in Idlib is scheduled to hold three plays at the end of this month, in three styles: the live theater, the shadow theater, and the puppet theater.
Syrian shadow theater in World Heritage Lists
The shadow theater idea is based on the use of hand puppets moving behind a transparent curtain or behind a screen inside a dark stage. The light behind the stage reflects the puppets' shadow on a screen.
The shadow theater in Syria has been reflected in the famous moppet characters "Karakuz and Awad," "Karakuz" being the "naive" character and "Awad" the "smart" one. The idea is originated in the Syrian capital Damascus, where this art has been known as a popular art that has been spread in public cafés.
The importance of "Karakuz and Awad" play lies in the fact that it deals with critical social issues, but in a sarcastic style, and the two characters use in their dialogue the style of poetry, prose, singing, and music.
On 28 November, the United Nations Educational, Scientific and Cultural Organization (UNESCO) listed the "Karakuz and Awad" play on the World Heritage List, which needs urgent protection, within the shadow theater category.
UNESCO stated that the art of the shadow theater in Syria has been declining for years, especially after the spread of modern technology and tablets. It also pointed out that this style has become limited to cultural festivals only. In addition, there is only one person in Damascus, who can move the moppets, Mikael Wahed.
if you think the article contain wrong information or you have additional details Send Correction