"National Army" Names Its Troops to Fight East of Euphrates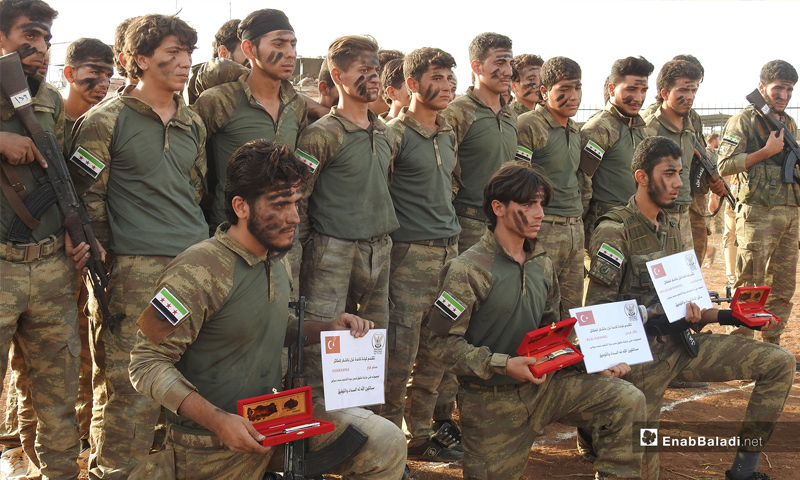 The factions of the "National Army" started sending Turkey lists with the names of its troops, in preparation for the anticipated battle east of the Euphrates, which Turkey announced as to take place within days, on Wednesday, December 12.
The factions have all combated complete readiness and the process of filing the troops' names, supposed to participate in the military operation, started, a commander from the "Free Army" told Enab Baladi today, Friday (December 14).
Commanders from the "National Army" and the Turkish army are conducting reconnaissance operations along the Syrian-Turkish borders, adjacent to the "Syrian Democratic Forces'" (SDF) control areas in east of the Euphrates, he added.
Today, Mazloum Kobani, commander in chief of "SDF" announced his fighters' readiness to face any Turkish attack in east of the Euphrates.
"We are ready for any attack and will respond strongly…within our areas," "Kobani" said in an interview with Reuters on Friday, December 14.
The movements of the "National Army's" factions correspond to the Turkish air forces and reconnaissance above the city of Manbij, according to Enab Baladi's correspondent in rural Aleppo.
The movement of the Turkish aircraft started immediately after Turkey announced the military operation in east of the Euphrates in the a few upcoming days, the correspondent explained.
The Turkish military reinforcements continue to arrive in the Syrian-Turkish borders, especially from the direction of the city of Ras al-Ayn and the town of Tell Abyad, located on the orders.
"Military vehicles are to be deployed at the border posts, and units of the Special Forces have arrived in several posts on the borders," TRT Haber channel reported.
Today, the official channel posted satellite imagery showing the fortifications and the tunnels being dug by the Kurdish "People's Protection Units" along the borders.
All the factions will participate in the battle, according the percentage demanded from them of all constituents, Youssef Hamoud, spokesperson of the "National Army," told Enab Baladi in a former interview.
The "National Army" will participate with infantry, supported by infantry and artillery divisions from the Turkish army, according to Hamoud, who said: "The battle will be integral, starting from Manbij to Tell Abyad and passing through Ras al-Ayn."
There is not a complete image of the areas east of the Euphrates yet, especially following the Pentagon's statement, in which Commander Sean Robertson, a Pentagon spokesman, said: "any unilateral action into northeast Syria is of grave concern" and "unacceptable."
"Coordination and consultation between the United States and Turkey was the only way to address security concerns," he added.
14 Thousand "Free Army" Troops to Join East Euphrates Battle
if you think the article contain wrong information or you have additional details Send Correction