Jordan Determines Types of Fruits and Vegetables to be Imported From Syria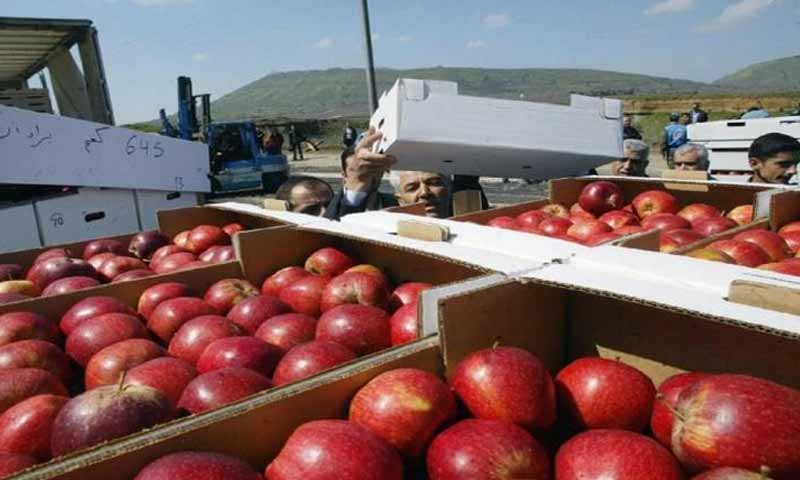 The Jordanian government has issued a decree specifying types of fruits and vegetables which are to be imported from Syria, while other items have been prohibited for import.
A spokesman for Jordan's Agriculture Ministry, Lawrence al-Majali, said in a statement to the Jordanian news outlet Roya that the Ministry is currently permitting grapes, apples, and carrots to be imported from Syria to Jordanian markets in small quantities.
Al-Majali added that that Ministry has prohibited the import of citrus fruits, olive oil, tomatoes, and cucumbers from Syria, explaining that these are already available in large quantities and at low prices in Jordan's domestic market.
The new decree has come within the context of a ban in Jordan on importing foodstuffs where local production is protected. The order has been circulated at Jordan's land border crossings, and particularly at the Jaber-Nassib crossing with Syria, according to the spokesman.
Several days previously Jordan began to tighten control over the entry of agricultural products from Syria via the Nassib border crossing. This came shortly after Jordanian citrus fruit farmers protested over what they called "illegal" imports coming from Syria.
The Agriculture Ministry said that it had issued instructions to the border crossing that such products should not be imported except after the completion of the required import licensing procedures, in accordance with the country's laws.
The Ministry added that it would not allow the uncontrolled entry of any produce which could disrupt production of crops locally.
Jordanian farmers had thrown their produce in the street the previous week to protest against the entry of Syrian goods which were lowering prices in the Jordanian market.
The farmers said that the entry of Syrian products has led to financial losses among Jordanian traders, and called on the government to resolve the issue.
The Jordanian and Syrian government announced the official opening of the Nassib border crossing on 15 October, after it being closed for three years due to the civil conflict in Syria. Economic and commercial transactions were then to be gradually resumed.
After the opening of the crossing trucks began to cross from both sides, leading to the sale of Syrian products being restored in Jordanian markets.
The head of the Exporters Union in Syria, Muhammad al-Sawah, said last month that around 500 tons of fruits and vegetables would be exported each day to Jordan, according to the al-Watan news outlet.
As a result of this Jordanian farmers launched protests against uncontrolled entry of Syrian goods, which led to the Jordanian Fruit and Vegetable Traders Union official Saadi Abu Hamad calling on the Agriculture Ministry to halt the import of Syrian crops.
Meanwhile, the newspaper al-Ghad cited a well-placed source in the Ministry who said that import permits were being held back in order to protect local producers.
if you think the article contain wrong information or you have additional details Send Correction