Humanitarian Appeal Follows the Rainstorm that Drowned Northern Syria's Camps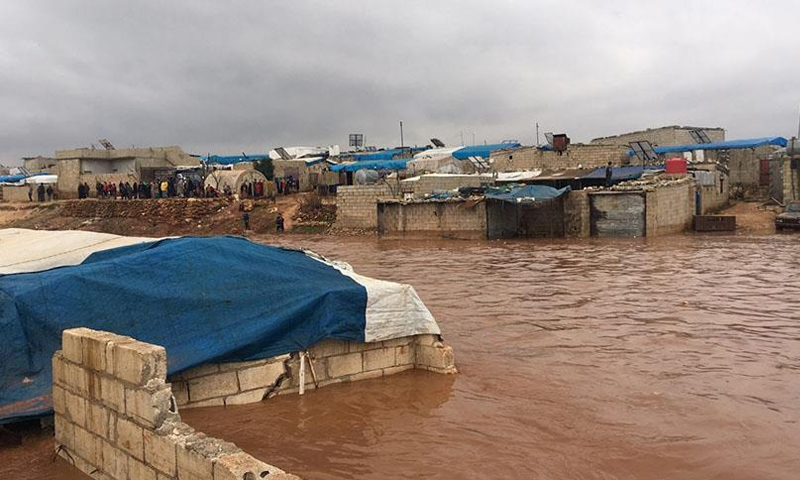 Humanitarian organizations and local councils in northern Syria issued emergency appeals after the rainstorm that hit the area.
Massive rain falls, starting from Tuesday to Wednesday, December 26, drowned many of the tents in northern Syria's camps and besieged the people there, for the roads were all cut.
Damage befell 11 camps in north-western Syria, on the borders with Turkey, including the camps of "Atmeh," "al-Karamah," "Huda" and "al-Omar" in rural Idlib, in addition to the area of "Kherbet Eljoz," rural Latakia, as reported by Enab Baladi's reporter in Idlib.
تجرف السيول المخيمات العشوائية شمال #سوريا بسبب الأمطار الغزيرة
الفيديو من مخيم القاح #جنوب أطمة pic.twitter.com/NYjIfv1fgK

— هيئة الإغاثة (@IHHar) December 26, 2018
These camps house 70 thousand persons in total, all displaced from various Syrian areas.
Enab Baladi's correspondent pointed out that the Civil Defense teams have announced a state of emergency and readiness, while the Response Coordination Team issued an urgent call for heading to camps to help people stuck in the mud.
For its turn, the "Free Hama Provincial Council" issued a statement yesterday appealing to all the organizations and entities to urgently address the camps, sinking in the rain water, calling for help in discharging the water and opening the roads.
On social media, activists launched solidarity campaigns with the camp's population as to voice their dilemma, through the two following hashtags: "We Are with the Camp's People" and "We Are All Responsible."
A number of Syrian entities, media outlets and civil society organizations will organize a stand in solidarity and a camping, to start on January 13, aiming at attracting attention to the tragic conditions endured by Syrian people in the camps every winter.
Cold weather and massive rains are hitting the different Syrian governorates, while they are expected to turn into snow over highlands.
if you think the article contain wrong information or you have additional details Send Correction