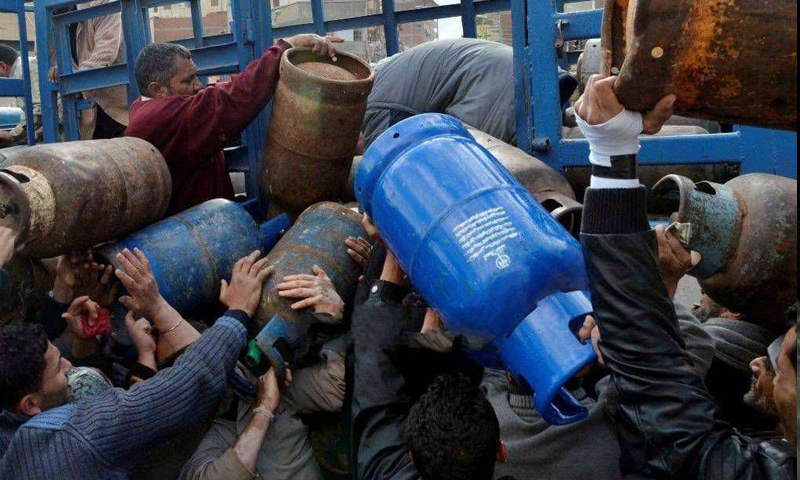 Activists and local news networks are reporting a crisis that has been sweeping the Syrian coastal governorates and Aleppo for the past a few days.
Local websites posted photos of people queuing to get gas cylinders, at a time where concerned entities denied the crisis and justified the situation with the people's increasing demand on gas.
The citizens are complaining about household gas absence and standing in long queue to only get a single gas cylinder, while the concerned entities are committed to silence, local news websites, including Syrian Snack, reported.
On Thursday, December 7, the local Damas Post reported that about 400 people, in Latakia governorate, were waiting to be provided with the needed gas cylinders, only to discover that the arriving vehicle was loaded with a total of about 200 cylinders, causing a dispute among the area's people.
The same website quoted a source from Hayan Petroleum Company, which it did not name, as saying that the production process is normal and there is not a decrease, stressing that the past years witnessed greater crises.
However, the crisis went beyond the Syrian coast reaching Aleppo governorate, where a gas cylinder is sold for about 8 thousand Syrian pounds in the black market, said a local source from the governorate.
During the regular session, December 7, the members of the People's Council of Syria discussed several service related issues, demanding an increase in the percentage of free services and a solution for the congestion at gas distribution centers throughout the governorates, as reported by the Council's official website.
There is not a real household gas crisis but an increase in demand during this period, which led to congestion at distribution centers and the available amounts, Hassan Baghdadi, Director of Latakia Petroleum Branch, said in a statement to the governmental Tishreen newspaper.
The situation will return to normal in the few next days; the production will be better, and, with it, the productivity of the principal gas filling unit, pointing out that there would not be a rise in the price of the household gas cylinder, sold for 2500 Syrian pounds, Baghdad said.
In a report issued last April, Tishreen newspaper mentioned that the daily production of the gas fields in northern Damascus, Adra and Qara, rural Damascus, exceeded a million square meters every day, the equivalent to $330 thousands.
In December 2017, Russia declared that it will be the only state to run the Syrian energy sector and reconstruct the energy facilities.
Every year, during winter, the Syrian governorates suffer a similar crisis, in addition to others relating to fuel and energy sources.
if you think the article contain wrong information or you have additional details Send Correction