First Kids Cycling Marathon in Jisr al-Shugur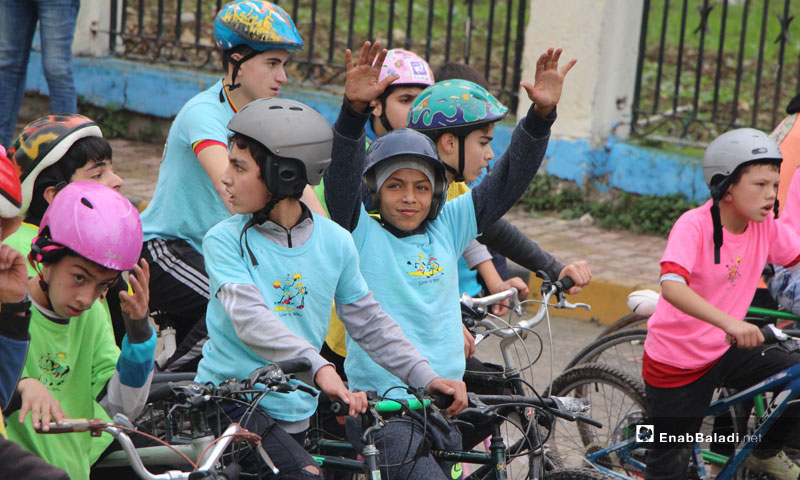 Jisr al-Shugur School, Idlib governorate, hosted the first biking marathon organized for the city's children, considered the first of its kind in Northern Syria.
The marathon was organized by the "Syrian Civil Defense," in cooperation with "New Day Syria," an organization helping in getting U.S. humanitarian aid to the Syrian afflicted areas.
"This event was the first in Jisr al-Shugur after the constant shelling by Assad's forces that targeted the city," Ahmad Yazaji, director of Jisr al-Shugur's Civil Defense branch, told Enab Baladi.
The marathon was dedicated to children, in coordination with the school's administration in Jisr al-Shugur, he added.
According to Yazaji, the event aims to "introduce the work of the Civil Defense forces to children and motivate them to indulge in volunteering work."
The marathon was conducted on December 5, which corresponds to the International Volunteer Day.
International Volunteer Day (IVD) mandated by the UN General Assembly, is held each year on 5 December.It is viewed as a unique opportunity for volunteers and entities to celebrate their efforts, share their values and consolidate their work which addresses local communities' relation to non-governmental organizations, UN agencies, state authorities and the private sector.
This year's event celebrated the volunteering efforts enhancing local ownership and the community's ability at facing natural disasters, economic pressure and political shocks.
The "Civil Defense" teams attend casualties and retrieve bodies following military operations. When the intensity of battles tuned down in Idlib governorate, the teams started focusing on service-related projects contributing to restore stability.
The "Civil Defense" forces were present during the marathon to ensure the safety of the children in case of emergencies, Yazaji said.
While about 40 kids participated in the marathon, "a suitable place of 500m distance was chosen for the cycling track, starting from the ancient Roman bridge to the al-Salam Park (Peace Park),"
In September 2018, the city of Jisr al-Shugur was a target for the Russian air force's shelling, which corresponded to the continuance arrival of the reinforcements of the Assad's forces in the area.
Jisr al-Shugur connects Northern Syria and the coastal area.
According to 2010's census, the city's population is 50 thousand persons, and it was controlled by Assad's forces late in 2011 and recaptured by the opposition in April 2015 after a series of battles.
"Civil Defense" Rehabilitates Ariha- Jisr al-Shughur Highway
if you think the article contain wrong information or you have additional details Send Correction