Death and Cold, Winter Suffocates Northern Syria's Refugee Camps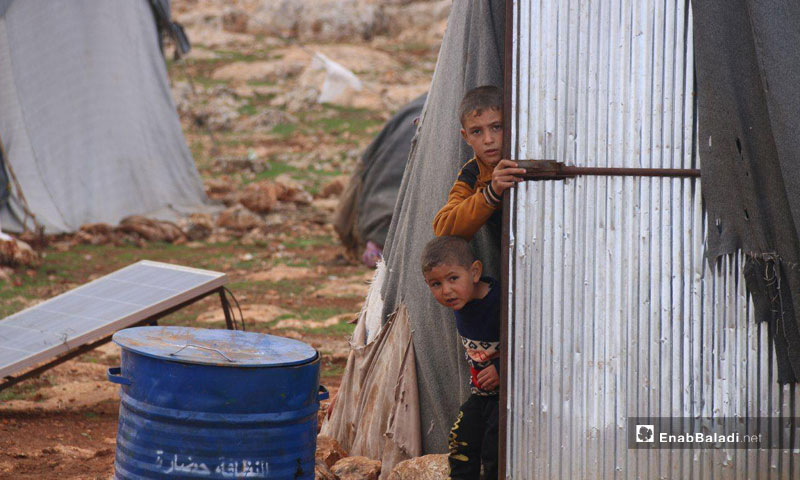 In the space surrounding the tents, Mrs. Noura searches for a few sticks of firewood to protect her seven children from the cruel cold and frost in the "al-Nawair" camp, southern Idlib, where she took refuge after escaping the shelling in rural Hama.
"The tents, where we live, do not protect us from the rain water, which drown our utensils and belongings, in addition to the firewood we use to worm our children up, which have been missing for three days," Noura, from Qasr al-Mukharram town, eastern Hama, told Enab Baladi.
The living conditions of Noura, dubbed Um Mustafa, is similar to these of thousands of refugees and internally displaced people, residing in the camps spreading throughout Northern Syria.
Idlib governorate contains dozens of camps, housing internally displaced persons from various governorates, who endure deteriorating living conditions, causing many diseases and deaths, the last victim of which was a little girl, who died out of cold and a man, who committed suicide, driven by poverty.
Northern Syria's population has exceeded the four million and 700 thousand persons' mark, a million and 600 thousand of whom are escapees and forcibly displaced, according to an overall census conducted by the "Response Coordination Group," published on December 8.
Cold Threatens the Camp's Population
Heating means are lacking, leaving thousands of camps' children to the temperature that goes below zero at night, resulting in many illness and disasters, the latest of which was the death of little girl, Maryam al-Hussian, who died due to sever cold.
The little girl, from Badra town, eastern Hama, lived in the al-Naser Camp, near Qah town, northern Idlib, passed away due to the cold that hit the area on December 17.
"We left our homes unable to take any of our belongings, and we live in a tent that lacks a heater due to our financial status. This was the reason to death of my seven months old daughter, Maraym," the little girl's father, Yassin al-Hussian, explained to Enab Baladi.
Poverty and other conditions forced one of the al-Nawair Camp's residents, northern Maarrat al-Nu'man, to shoot himself to death on December 16, in one of the cruelest incidents in the camp's history, which triggered the displaced people's contempt.
In an interview with Enab Baladi, Mohammad al-Obiad, Director of the al-Nawair Camp, said that Idlib governorate contains many random camps, housing a majority that escaped the shelling in southern and eastern rural Idlib, as well as Northern Hama.
The al-Nawair Camp, located in the vicinity of Maarrat al-Nu'man, suffers from missing health care and services, in addition to heating means and other urgent needs.
These camps are made with canvas tents, fixed on dirt floors and separated by dirt roads, that have no asphalt, which easily turn into clay with rainfall, making the displaced people's life harder and obstructing their movement.
Usually, the camps' population depends on relief assistance, food baskets and other offerings, particularly in winter. "This aid became scarce with the absence of humanitarian organizations," al-Obaid said.
In the past five months, the service reality inflated in Northern Syria's camps, especially with the massive rains that the area witnessed, which caused an essential damage in several camps.
The "Response Coordination Group," active in Northern Syria, called on the humanitarian organizations to contribute to providing the winter supplies to the most vulnerable people, especially escapees and forcibly displaced persons, who live in inhabitable places with the area's weak humanitarian response operations.
No official reaction has been made on the part of administrative committees and humanitarian organizations in Northern Syria to the displaced people's tragedy.
if you think the article contain wrong information or you have additional details Send Correction