Blood Disorders Treatment Center Opens Its Doors in Syria's Idlib Governorate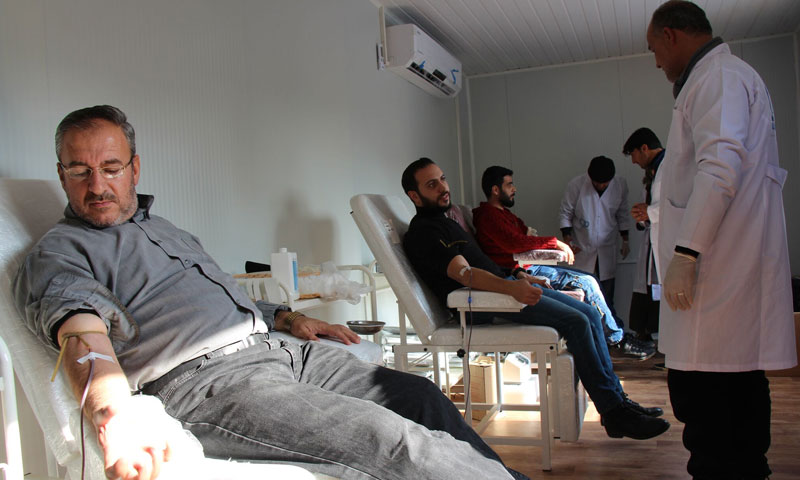 The city of Idlib has witnessed the opening of the "Khayr3", goodness, Center for the Treatment of Blood Disorders, in a unique step in Northern Syria. The Center has three departments with the most up to date devices, offering their services for free.  
The blood disorders treatment center is launched by the "WATAN" foundation, in cooperation with the Idlib Healthcare Directorate on November 27, divided into three departments; a blood bank, a medical tests laboratory and the last is designated for the treatment of thalassemia.
The three departments at the "Khayr3" Center provide free of charge services to patients, and it is a pioneer project in the rea, due to the modern devices it contains, Yahia Bakar, the Center's new Director, told Enab Baladi.
Bakar added that the first department is a blood bank, which provides blood to hospitals and medical centers within the borders of Idlib governorate, especially since that the other blood banks in the area are located at a sufficient distance.
The second department provides complete medical care to thalassemia patients, including periodical blood transfer, in addition to medication-based treatment, and it is the first center to provide treatment and medicines to its patients.
Thalassemia is a disorder that occurs to the blood cells, due to low hemoglobin proportions. Hemoglobin is the main component of red blood cells, as well as the carrier of oxygen, which, in case of thalassemia, leads to low blood oxygen levels.
The center also includes a laboratory, the third department, through the ELISA device, used for conducting blood tests and the hemoglobin electrophoresis device, which Northern Syria has for the first time, thus, sparing the patients from a journey to Turkey according to Bakar.
Northern Syria has six blood banks, but the new thing about the "Khayr3" center is the treatment of thalassemia and the hemoglobin electrophoresis device.
The center provides its services around the clock, supporting Idlib's hospitals which need blood, in addition to the patients who visit the center on a daily basis, as well as the follow up of the thalassemia patients and offering a complete health scan for their companions, Ziyad Hatim, Head of the "Media and Solidarity Team" at the "WATAN" foundation.
This year, the medical sector in Idlib has been witnessing a remarkable development. Among the most prominent indicators is the first heart surgery in the Aqrabat Hospital, near the Syrian-Turkish borders.
Early this month, the city of Idlib witnessed the opening of a center for the treatment of breast tumors and lymphoma, offering chemical therapy under the supervision of doctors specialized in cancer treatment.
if you think the article contain wrong information or you have additional details Send Correction